Flat-Document

File Cabinets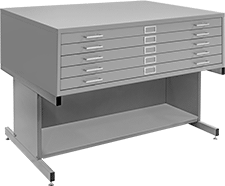 5-Drawer
Cabinet with Optional Open Base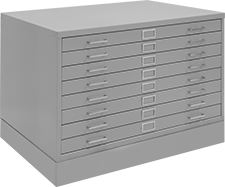 8-Drawer
Cabinet with Optional Closed Base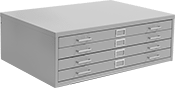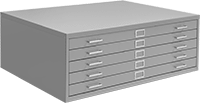 Store blueprints, CAD drawings, maps, and other large flat documents in these cabinets. All have a front paper depressor to keep documents from curling. All cabinets are stackable. Only stack cabinets of the same size.
Cabinets with five drawers can only be stacked two high when using the optional open bases.
Optional lock is for cabinets with five drawers. It includes one lock with two keys; this single lock will lock all drawers in the cabinet.
For

Max.


Document
Size

Wd.

Ht.

Dp.

Capacity,




lbs.

Wd.

Ht.

Dp.

Capacity,




lbs.

Max.

No.

of
Stackable
Units
Lock
Type
Choose
a
Color
Each

With 4 Drawers

26" × 37"
37"
2"
26"
Not Rated
40

1/2

"
14"
29

1/2

"
Not Rated
5
__
0000000
0000000
32" × 43"
43"
2"
32"
Not Rated
46

1/2

"
14"
35

1/2

"
Not Rated
5
__
0000000
00000000

With 5 Drawers

32" × 43"
43"
2"
32"
100
46

1/2

"
16

1/2

"
35

1/2

"
500
5
Knockout for Lock
000000
00000000
38" × 50"
50"
2"
38"
100
53

1/2

"
16

1/2

"
41

1/2

"
500
5
Knockout for Lock
000000
00000000

With 8 Drawers

26" × 37"
37"
2"
26"
Not Rated
40

1/2

"
25"
29

1/2

"
Not Rated
2
__
000000
00000000
32" × 43"
43"
2"
32"
Not Rated
46

1/2

"
25"
35

1/2

"
Not Rated
2
__
0000000
00000000
| | | | |
| --- | --- | --- | --- |
| Optional Lock for Cabinet with Five Drawers | 0000000 | Each | 000000 |
Wd.

Ht.

Dp.

Cap.,

lbs.

Material
Choose a Color
Each
40

1/2

"
6"
27"
Not Rated
Steel
0000000
0000000
46

1/2

"
6"
32

1/2

"
2,500
Steel
000000
000000
46

1/2

"
6"
33"
Not Rated
Steel
0000000
000000
53

1/2

"
6"
39"
2,500
Steel
000000
000000
46

1/2

"
20"
36"
1,500
Steel
0000000
000000
53

1/2

"
20"
41

1/2

"
1,500
Steel
0000000
000000