How to

Identify and Measure Fittings
Pipe size is an industry designation, not the actual size. View information about how to measure threaded and unthreaded pipe and pipe fittings.
Interlocking-Clamp

Hose Fittings for Steam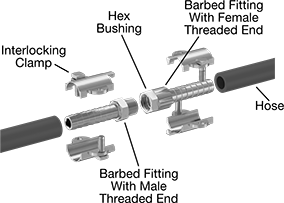 Also known as ground-joint couplings and boss couplings, these fittings are designed for high-pressure steam heating, humidification, and washdown applications. Insert the barbed end of the fitting into rubber hose, then position the interlocking clamp over the hose and bolt into place with a torque wrench. The clamp firmly grips the hose as it locks into the ring of the barbed end, creating a leak tight seal. The interlocking clamps are not reusable. Fittings are strong and durable with fair corrosion resistance.
Fittings with a female threaded end have a hex bushing (also known as a female spud) that connects to a male interlocking-clamp hose fitting. Replace the hex bushing with a hex nipple (sold separately) to connect two female fittings; the hex nipples are also known as double spuds.
Warning: There is no valve in these couplings. Stop the flow of steam before you disconnect the hose line.
For technical drawings and 3-D models, click on a part number.
Straight Adapters, Barbed × Male Threaded Pipe

Maximum

Pressure:

250

psi @

72° F

Maximum

Vacuum:

28

in.

of

Hg @

72° F

Temperature

Range:

-20° to 450° F

Attachment

Type:

Use Interlocking Clamps

(included)

Compatible

With:

Dixon

Boss,

Dixon Ground Joint
Replacement
Interlocking
Clamps

For
Hose ID
For Hose OD Range
Pipe
Size

Thread
Type
Clamp Material
Each
Each

1/2

"

15/16

" to 1

1/16

"

1/2

NPT

Zinc-Plated Steel
0000000
000000
0000000
000000

1/2

"
1

1/16

" to 1

3/16

"

1/2

NPT

Zinc-Plated Iron
0000000
00000
0000000
00000

3/4

"
1

5/32

" to 1

5/16

"

3/4

NPT

Zinc-Plated Steel
0000000
00000
0000000
00000

3/4

"
1

5/16

" to 1

1/2

"

3/4

NPT

Zinc-Plated Steel
0000000
00000
0000000
00000
1"
1

11/16

" to 1

15/16

"
1

NPT

Zinc-Plated Steel
0000000
00000
0000000
00000
2"
2

1/2

" to 2

25/32

"
2

NPT

Zinc-Plated Iron
0000000
00000
0000000
00000
Straight Adapters, Barbed × Female Threaded Pipe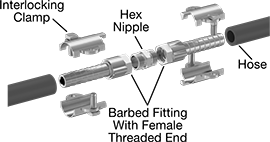 Maximum

Pressure:

250

psi @

72° F

Maximum

Vacuum:

28

in.

of

Hg @

72° F

Temperature

Range:

-20° to 450° F

Attachment

Type:

Use Interlocking Clamps

(included)

Compatible

With:

Dixon

Boss,

Dixon Ground Joint
Replacement
Interlocking
Clamps

For
Hose
ID
For Hose
OD
Range
Pipe
Size

Thread
Type
Clamp
Material
Wing
Nut
Material
Hex
Bushing
Material
Each
Each
Each
Each

1/4

"

9/16

" to

21/32

"

1/4

NPT

Zinc-Plated Steel
__
Zinc-Plated Steel
0000000
000000
0000000
000000
000000
00
000000
00

3/8

"

11/16

" to

7/8

"

3/8

NPT

Zinc-Plated Steel
__
Zinc-Plated Steel
0000000
00000
0000000
00000
000000
00
000000
00

1/2

"

15/16

" to 1

1/16

"

1/2

NPT

Zinc-Plated Steel
Zinc-Plated Iron
Zinc-Plated Steel
0000000
00000
0000000
00000
0000000
000000
0000000
000000

1/2

"
1

1/16

" to 1

3/16

"

1/2

NPT

Zinc-Plated Iron
Zinc-Plated Iron
Zinc-Plated Steel
0000000
00000
0000000
00000
0000000
00000
0000000
00000

3/4

"
1

5/32

" to 1

5/16

"

3/4

NPT

Zinc-Plated Steel
Zinc-Plated Iron
Zinc-Plated Steel
0000000
00000
0000000
00000
0000000
00000
0000000
00000

3/4

"
1

5/16

" to 1

1/2

"

3/4

NPT

Zinc-Plated Steel
Zinc-Plated Iron
Zinc-Plated Steel
0000000
00000
0000000
00000
0000000
00000
0000000
00000
1"
1

11/16

" to 1

15/16

"
1

NPT

Zinc-Plated Steel
Zinc-Plated Iron
Zinc-Plated Steel
0000000
00000
0000000
00000
0000000
00000
0000000
00000
2"
2

1/2

" to 2

25/32

"
2

NPT

Zinc-Plated Iron
Zinc-Plated Iron
Zinc-Plated Iron
0000000
000000
0000000
00000
0000000
00000
0000000
00000