Beverage Coolers
In the plant or in the field, these coolers keep refreshments cold for hours.
Drinking water coolers can be paired with a mounting bracket to place them on a vehicle or wall. The mounting bracket has a strap to secure the cooler. Add a cup dispenser to 3-, 5-, and 10-gallon coolers to keep cups nearby.
Gatorade coolers include a spoon for mixing drinks. 7- and 10-gallon coolers come with a cup dispenser that holds 3 1/4" diameter cups. Use the mobile stand to easily transport coolers and to keep extra cups and Gatorade mix on hand.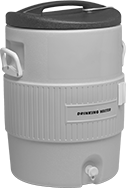 Drinking Water Cooler with Side Handles