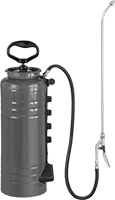 C
D
Pump the handle to pressurize the tank, then squeeze the trigger on the wand to spray. These sprayers are often used for degreasers, insecticides, disinfectants, cleaning solutions, and herbicides.
Style A, B, and C sprayers have a trigger that locks for continuous spray.
Style C sprayers are more impact resistant than other sprayers and have a reinforced hose to prevent cracking and leaking. They can be used with harsh liquids such as acetone (40%).
Note: The material of the parts can affect a sprayer's compatibility with a chemical or solution. Make sure the tank, seal, wand, and nozzle are suitable for your application.
Replacement
Trigger and
Wand Kits

Style

Cap.,




gal.

Dia.

Ht.

Tank
Material
Seal
Material
Color
Hose


Lg.

Wand


Lg.

Wd.

Dp.

Dia.

Includes
Each
Each
Each

Flat Dispensing

C
3

1/2

8

1/2

"
26

3/4

"
Epoxy-Coated Steel
Viton® Fluoroelastomer Rubber
Red
48"
24"
__
__
4

1/4

"
Two Spray Nozzles
0000000
0000000
0000000
000000
0000000
000000
C
3

1/2

9

1/2

"
27

1/4

"
Stainless Steel
Viton® Fluoroelastomer Rubber
__
48"
24"
4"
1

1/2

"
__
__
0000000
000000
0000000
00000
000000
00
D
3

1/2

8"
26

1/2

"
Epoxy-Coated Galvanized Steel
Viton® Fluoroelastomer Rubber
Black
48"
24"
4

1/4

"
2

1/2

"
__
__
0000000
000000
0000000
00000
000000
00