How to

Identify and Measure Fittings
Pipe size is an industry designation, not the actual size. View information about how to measure threaded and unthreaded pipe and pipe fittings.
Grip-Lock

Hose Couplings for Air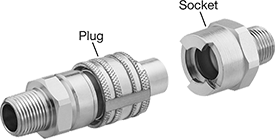 Also known as Bowes couplings, these consist of a plug and a socket (both sold separately) that connect with a quarter twist. They can handle higher-pressures than twist-claw couplings, and have a lower profile to fit in cramped spaces. All of the grip-lock plugs are compatible with any of the grip-lock sockets, regardless of the pipe size or barbed hose ID.
Plugs have a spring-loaded locking sleeve to prevent accidental disconnection. The sleeve automatically locks into place when you connect the coupling. To disconnect, slide the locking sleeve back and twist the coupling apart.
Plugs and sockets with a barbed end insert into plastic or rubber hose and secure with a clamp.
Zinc-plated steel plugs and sockets are stronger and more durable than other metal plugs and sockets. They have fair corrosion resistance, so they should be used primarily in dry environments. Brass plugs and sockets are softer than other metal plugs and sockets, so they're easier to thread together. They have good corrosion resistance. 303 stainless steel plugs and sockets have very good corrosion resistance. They're the best choice for high-humidity environments.
NPTF (Dryseal) threads are compatible with NPT threads.
Warning: There is no valve in these couplings. Stop the flow of air before you disconnect the line.
For technical drawings and 3-D models, click on a part number.
Plugs, Male Threaded Pipe

Maximum

Pressure:

300

psi @

72° F

Maximum

Vacuum:

See table
Temperature

Range:

See table
Specifications

Met:

MIL-A-A-

50431,

MIL-C-3486
Compatible

With:

Dixon Dix Lock

Couplings,

Perfecting N Couplings
Pipe
Size

Thread
Type

Max.

Vacuum
Temperature


Range,

°F

Each

3/8

NPTF

22 in. of Hg @ 72° F
-40° to 250°
0000000
000000

1/2

NPTF

22 in. of Hg @ 72° F
-40° to 250°
0000000
00000

3/4

NPTF

22 in. of Hg @ 72° F
-40° to 250°
0000000
00000

Brass

3/8

NPT

Not Rated
-20° to 175°
0000000
00000

1/2

NPT

Not Rated
-20° to 175°
0000000
00000

3/4

NPT

Not Rated
-20° to 175°
0000000
00000

303 Stainless Steel

3/4

NPTF

22 in. of Hg @ 72° F
-40° to 250°
0000000
00000
Plugs, Female Threaded Pipe

Maximum

Pressure:

300

psi @

72° F

Maximum

Vacuum:

See table
Temperature

Range:

See table
Specifications

Met:

MIL-A-A-

50431,

MIL-C-3486
Compatible

With:

Dixon Dix Lock

Couplings,

Perfecting N Couplings
Pipe
Size

Thread
Type

Max.

Vacuum
Temperature


Range,

°F

Each

3/8

NPTF

22 in. of Hg @ 72° F
-40° to 250°
0000000
000000

1/2

NPTF

22 in. of Hg @ 72° F
-40° to 250°
0000000
00000

3/4

NPTF

22 in. of Hg @ 72° F
-40° to 250°
0000000
00000

Brass

3/8

NPTF

Not Rated
-20° to 175°
0000000
00000

1/2

NPTF

Not Rated
-20° to 175°
0000000
00000

3/4

NPTF

Not Rated
-20° to 175°
0000000
00000

303 Stainless Steel

3/4

NPTF

22 in. of Hg @ 72° F
-40° to 250°
0000000
00000

Maximum

Pressure:

300

psi @

72° F

Maximum

Vacuum:

See table
Temperature

Range:

See table
Attachment

Type:

Use Band-and-Buckle

Clamps

Specifications

Met:

MIL-A-A-

50431,

MIL-C-3486
Compatible

With:

Dixon Dix Lock

Couplings,

Perfecting N Couplings
For
Hose ID

Max.

Vacuum
Temperature


Range,

°F

Each

3/8

"
22 in. of Hg @ 72° F
-40° to 250°
0000000
000000

1/2

"
22 in. of Hg @ 72° F
-40° to 250°
0000000
00000

3/4

"
22 in. of Hg @ 72° F
-40° to 250°
0000000
00000

Brass

1/2

"
Not Rated
-20° to 175°
0000000
00000

3/4

"
Not Rated
-20° to 175°
0000000
00000

303 Stainless Steel

3/4

"
22 in. of Hg @ 72° F
-40° to 250°
0000000
00000
Sockets, Male Threaded Pipe

Maximum

Pressure:

300

psi @

72° F

Maximum

Vacuum:

See table
Temperature

Range:

See table
Specifications

Met:

MIL-A-A-

50431,

MIL-C-3486
Compatible

With:

Dixon Dix Lock

Couplings,

Perfecting N Couplings
Pipe
Size

Thread
Type

Max.

Vacuum
Temperature


Range,

°F

Each

3/8

NPTF

22 in. of Hg @ 72° F
-40° to 250°
0000000
000000

1/2

NPTF

22 in. of Hg @ 72° F
-40° to 250°
0000000
00000

3/4

NPTF

22 in. of Hg @ 72° F
-40° to 250°
0000000
00000

Brass

3/8

NPT

Not Rated
-20° to 175°
0000000
00000

1/2

NPT

Not Rated
-20° to 175°
0000000
00000

3/4

NPT

Not Rated
-20° to 175°
0000000
00000

303 Stainless Steel

3/4

NPTF

22 in. of Hg @ 72° F
-40° to 250°
0000000
00000
Sockets, Female Threaded Pipe

Maximum

Pressure:

300

psi @

72° F

Maximum

Vacuum:

See table
Temperature

Range:

See table
Specifications

Met:

MIL-A-A-

50431,

MIL-C-3486
Compatible

With:

Dixon Dix Lock

Coupling,

Perfecting N Coupling
Pipe
Size

Thread
Type

Max.

Vacuum
Temperature


Range,

°F

Each

3/8

NPTF

22 in. of Hg @ 72° F
-40° to 250°
0000000
000000

1/2

NPTF

22 in. of Hg @ 72° F
-40° to 250°
0000000
00000

3/4

NPTF

22 in. of Hg @ 72° F
-40° to 250°
0000000
00000

Brass

3/8

NPTF

Not Rated
-20° to 175°
0000000
00000

1/2

NPTF

Not Rated
-20° to 175°
0000000
00000

3/4

NPTF

Not Rated
-20° to 175°
0000000
00000

303 Stainless Steel

3/4

NPTF

22 in. of Hg @ 72° F
-40° to 250°
0000000
00000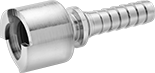 Maximum

Pressure:

300

psi @

72° F

Maximum

Vacuum:

See table
Temperature

Range:

See table
Attachment

Type:

Use Band-and-Buckle Clamps
Specifications

Met:

MIL-A-A-

50431,

MIL-C-3486
Compatible

With:

Dixon Dix Lock

Couplings,

Perfecting N Couplings
For
Hose ID

Max.

Vacuum
Temperature


Range,

°F

Each

3/8

"
22 in. of Hg @ 72° F
-40° to 250°
0000000
000000

1/2

"
22 in. of Hg @ 72° F
-40° to 250°
0000000
00000

3/4

"
22 in. of Hg @ 72° F
-40° to 250°
0000000
00000

Brass

1/2

"
Not Rated
-20° to 175°
0000000
00000

3/4

"
Not Rated
-20° to 175°
0000000
00000

303 Stainless Steel

3/4

"
22 in. of Hg @ 72° F
-40° to 250°
0000000
00000