DFARS (Defense Acquisition Regulations Supplement)

DFARS

(Defense

Acquisition

Regulations

Supplement)
RoHS (Restriction of Hazardous Substances)

RoHS

(Restriction

of
Hazardous

Substances)
Hand-Operated

Air Evacuators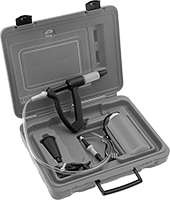 No need for compressed air or electricity—this hand-operated system lets you flush bubbles from hydraulic fluid. Also known as a bleeder kit, use it to bleed clutches and brakes, bench bleed cylinders, and meter and inject liquids. For use with D.O.T. (Department of Transportation) 3, 4, and 5 fluids.
Max.

Injection


Pressure,

psi
Injection


Stroke,

ml

Max.

Vacuum,




in.

of Hg
Includes
Each
125
12.5
30
Fittings, Adapters, Instructional DVD, Plastic Case
0000000
0000000
Air-Powered

Hydraulic-Fluid

and Air Evacuators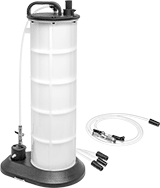 Hook this chemical-resistant evacuator up to compressed air to extract engine oil, gear oil, coolants, and brake fluids from reservoirs, tanks, and brake systems.
Automatic shut-off prevents overfilling.
Includes a brake/clutch bleeding kit that flushes air bubbles from hydraulic fluid.
Capacity,




gal.

Pressure


Range,


psi

Wd.

Dp.

Ht.

Pipe
Size

Thread
Type
Gender
Material

Max.

Operating


Temperature,




°F

Includes
Features
Each
2.3
60-120
13"
9

1/2

"
25

1/2

"

1/4

NPT

Female
Polyethylene Plastic

175°
One 0.23" × 5-ft. Long Tube, One 0.26" × 5-ft. Long Tube, One 0.41" OD × 5-ft. Long Tube, and Tubing Adapters, Brake/Clutch Bleeding Kit
Air Shut-Off Valve, Automatic Shut-Off, Pour Spout
000000
0000000