Mounting Plate Width

Mounting Plate Width

Mounting Plate Length

Mounting Plate Length

Mounting Location

Mounting Location
Brake Retraction Pedal Location

Brake Retraction
Pedal Location
RoHS (Restriction of Hazardous Substances)

RoHS

(Restriction

of
Hazardous

Substances)
For Screw Size

For Screw Size
DFARS (Defense Acquisition Regulations Supplement)

DFARS

(Defense

Acquisition

Regulations

Supplement)
Brake Extension Pedal Location

Brake Extension
Pedal Location
Floor Locks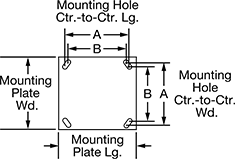 Stabilize carts, trucks, workbenches, and other mobile equipment during loading and unloading. Floor locks bolt or weld to the underside of your equipment and have a spring-loaded base with a nonskid floor pad to keep equipment stationary.
Note: Floor locks are not load rated. They are designed to brake your equipment in place, not lift it off the floor.
For technical drawings and 3-D models, click on a part number.
Retraction Pedal on Both Sides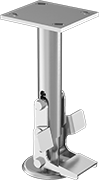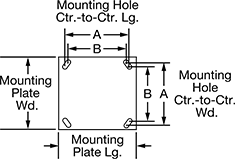 Mounting Hole


Ctr.-to-Ctr.

For Caster
Mount

Ht.

Extended
Retracted
Clearance
Style

Lg.

Wd.

Lg.




(A)

Lg.




(B)

Wd.




(A)

Wd.




(B)

Mounting
Fasteners
Included
For
Screw
Size

Each

304 Stainless Steel

5

5/8

"
5

5/8

"
4

1/2

"
1

1/8

"
1
4

1/2

"
4"
3

5/8

"
3"
3"
2

5/8

"
No

3/8

"

0000000
0000000
6

1/2

"
6

1/2

"
5

3/8

"
1

1/8

"
1
4

1/2

"
4"
3

5/8

"
3"
3"
2

5/8

"
No

3/8

"

0000000
000000
7

1/2

"
7

1/2

"
6

1/2

"
1"
1
4

1/2

"
4"
3

5/8

"
3"
3"
2

5/8

"
No

3/8

"

0000000
000000