Rotary Speed Limiters
Install these rotary speed limiters at the hinges of small lids, doors, and access panels for smooth, quiet motion. They're often used in electronics applications.
Speed limiters with a 105°, 110°, or 130° rotation angle are commonly used for small movements, such as closing lids.
Dual direction speed limiters dampen motion in both directions. Common uses for them include controlling the motion of a switch-activated door and opening and closing a DVD player.
Clockwise and counterclockwise speed limiters dampen motion in the listed direction, moving freely in the opposite direction. Use them in processes that require returning a part to its original position.
Speed limiters with adjustable torque have a knob on the back to control damping torque. Use them in applications that require fine tuning.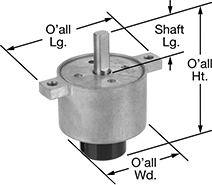 Adjustable Torque
Max.




Torque,




in.-oz.

Min.




Torque,




in.-oz.

Lg.

Wd.

Ht.

Dia.

Lg.

Wd.

Material

Temp.




Range,




° F

Max.


Cycles
per Minute

Max.




Speed,


rpm
Adjustment
Style
Material

Dia.

Ctr.-to-Ctr.

Fasteners
Included
Each

105°

Dual Direction Rotation

1,416
284
2.6"
1.77"
2.56"
0.31"
0.71"
0.24"
Steel
23° to 122°
12
50
Knob
Zinc
0.2"
2.2"
No
00000000
000000
1,416
284
2.6"
1.77"
2.56"
0.31"
0.71"
0.24"
Steel
23° to 122°
12
50
Knob
Zinc
0.2"
2.2"
No
00000000
00000

105°

Counterclockwise Rotation

1,416
284
2.6"
1.77"
2.56"
0.31"
0.71"
0.24"
Steel
23° to 122°
12
50
Knob
Zinc
0.2"
2.2"
No
00000000
00000
Press Fit for Square Shaft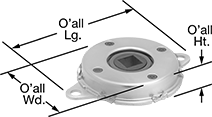 Press Fit for Square Shaft
Max.




Torque,




in.-oz.

Min.




Torque,




in.-oz.

Lg.

Wd.

Ht.

Lg.

Wd.

Insert
Material

Temp.




Range,




° F

Max.


Cycles
per Minute

Max.




Speed,


rpm
Material

Dia.

Ctr.-to-Ctr.

Fasteners
Included
Each
1,416
708
3.27"
2.36"
0.81"
0.47"
0.47"
Nylon
23° to 122°
12
50
Zinc
0.22"
2.76"
No
00000000
000000