Torque-Limiting

Flexible Shaft Couplings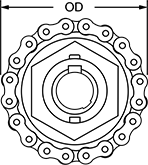 Protect shafts, motors, and gear boxes from damage that's caused by torque overload from machine jams and emergency stops. If your set torque is exceeded, these couplings will disengage and then automatically re-engage once the torque is back within range. They handle more than five times as much torque as our other torque-limiting flexible shaft couplings. Connect them to your shafts with the included set screws, which bite into the shaft or shaft and key for a secure hold.
Single-spring couplings let you make finer torque adjustments than the double-spring couplings, but can only withstand half as much torque.
Double-spring couplings handle twice as much torque as the single-spring couplings, but are not the best for making precise adjustments at low torques.
Couplings for keyed shafts have keyways that are cut to standard ANSI dimensions, so they'll fit snugly on ANSI keyed shafts to eliminate slipping during starts and stops.
For technical drawings and 3-D models, click on a part number.
For
Shaft


Dia.

Max.




Torque,




ft.-lbs.

Max.




Speed,


rpm
Parallel
Angular
OD
Overall


Lg.

Keyway


Wd.

×
Keyway

Dp.

Hub
Material

Torque-Limiting


Direction
Standard
Trade
Size
Each

Single Spring

For Keyed Shafts

12mm × 12mm
25
1,800
0.01"
3°
2

3/4

"
2

1/4

"
4mm × 2mm

4mm × 2mm

Steel
Clockwise and Counterclockwise
ANSI
35-2
00000000
0000000
12mm × 15mm
25
1,800
0.01"
3°
2

3/4

"
2

1/4

"
4mm × 2mm

5mm × 2.5mm

Steel
Clockwise and Counterclockwise
ANSI
35-2
00000000
000000
15mm × 15mm
25
1,800
0.01"
3°
2

3/4

"
2

1/4

"
5mm × 2.5mm

5mm × 2.5mm

Steel
Clockwise and Counterclockwise
ANSI
35-2
00000000
000000
15mm × 20mm
75
1,800
0.01"
3°
3

11/16

"
2

13/16

"
5mm × 2.5mm

6mm × 3mm

Steel
Clockwise and Counterclockwise
ANSI
40-2
00000000
000000
20mm × 20mm
75
1,800
0.01"
3°
3

11/16

"
2

13/16

"
6mm × 3mm

6mm × 3mm

Steel
Clockwise and Counterclockwise
ANSI
40-2
00000000
000000
20mm × 25mm
75
1,800
0.01"
3°
3

11/16

"
2

13/16

"
6mm × 3mm

8mm × 4mm

Steel
Clockwise and Counterclockwise
ANSI
40-2
00000000
000000
25mm × 25mm
75
1,800
0.01"
3°
3

11/16

"
2

13/16

"
8mm × 4mm

8mm × 4mm

Steel
Clockwise and Counterclockwise
ANSI
40-2
00000000
000000

Double Spring

For Keyed Shafts

12mm × 12mm
50
1,800
0.01"
3°
2

3/4

"
2

1/4

"
4mm × 2mm

4mm × 2mm

Steel
Clockwise and Counterclockwise
ANSI
35-2
00000000
000000
12mm × 15mm
50
1,800
0.01"
3°
2

3/4

"
2

1/4

"
4mm × 2mm

5mm × 2.5mm

Steel
Clockwise and Counterclockwise
ANSI
35-2
00000000
000000
15mm × 15mm
50
1,800
0.01"
3°
2

3/4

"
2

1/4

"
5mm × 2.5mm

5mm × 2.5mm

Steel
Clockwise and Counterclockwise
ANSI
35-2
00000000
000000
15mm × 20mm
150
1,800
0.01"
3°
3

11/16

"
2

13/16

"
5mm × 2.5mm

6mm × 3mm

Steel
Clockwise and Counterclockwise
ANSI
40-2
00000000
000000
20mm × 20mm
150
1,800
0.01"
3°
3

11/16

"
2

13/16

"
6mm × 3mm

6mm × 3mm

Steel
Clockwise and Counterclockwise
ANSI
40-2
00000000
000000
20mm × 25mm
150
1,800
0.01"
3°
3

11/16

"
2

13/16

"
6mm × 3mm

8mm × 4mm

Steel
Clockwise and Counterclockwise
ANSI
40-2
00000000
000000
25mm × 25mm
150
1,800
0.01"
3°
3

11/16

"
2

13/16

"
8mm × 4mm

8mm × 4mm

Steel
Clockwise and Counterclockwise
ANSI
40-2
00000000
000000