About
Copper,

Brass,

and Bronze
Weldable
Marine-Grade

464 Brass Rods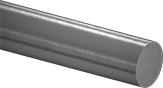 Yield

Strength:

22,

000 psi

Hardness:

Rockwell B55

(Soft)

Temper:

H02 (

1/2

Hard)

Heat

Treatable:

No
Specifications

Met:

ASTM B21
A lead-free alternative to 485 brass, 464 brass offers good weldability, strength, and wear resistance. It's widely used for marine hardware, pump and propeller shafts, and rivets.
For technical drawings and 3-D models, click on a part number.

Certificates with a traceable lot number are available for these products. Download certificates from ORDER HISTORY after your order ships.
Dia.

Dia.

Tolerance
Range
Straightness
Tolerance

1 ft.

Lg.

3 ft.

Lg.

6 ft.

Lg.

3/16

"
-0.003" to 0.003"

1/2

" per 10 ft.
0000000

1/4

"
-0.003" to 0.003"

1/2

" per 10 ft.
0000000

5/16

"
-0.003" to 0.003"

1/2

" per 10 ft.
0000000

3/8

"
-0.003" to 0.003"

1/2

" per 10 ft.
0000000

7/16

"
-0.003" to 0.003"

1/2

" per 10 ft.
0000000

1/2

"
-0.003" to 0.003"

1/2

" per 10 ft.
0000000

9/16

"
-0.003" to 0.003"

1/2

" per 10 ft.
0000000

5/8

"
-0.003" to 0.003"

1/2

" per 10 ft.
0000000

3/4

"
-0.003" to 0.003"

1/2

" per 10 ft.
0000000

7/8

"
-0.003" to 0.003"

1/2

" per 10 ft.
0000000
1"
-0.003" to 0.003"

1/2

" per 10 ft.
0000000
1

1/4

"
-0.003" to 0.003"

1/2

" per 10 ft.
0000000
1

1/2

"
-0.003" to 0.003"

1/2

" per 10 ft.
0000000
2"
-0.003" to 0.003"

1/2

" per 10 ft.
0000000