Vibration-Resistant

Blade-Style

DC Circuit Breakers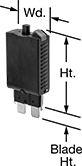 These circuit breakers resist vibration better than standard low-voltage DC circuit breakers. They protect against overload and short circuits in low-voltage automotive and other electronic applications. Use them to replace type ATC, AT, ATO, and 257 blade-style fuses. All are thermal, so they use the heat generated in overcurrent situations to trip the breaker.
Breakthrough current is the maximum current that the circuit breaker can safely stop in the event of a short circuit.
For technical drawings and 3-D models, click on a part number.
Voltage
Breakthrough
Current
Mounting
Location

Ht.

Wd.

Blade


Ht.

Temp.




Range,




°F

Environmental
Rating
Specifications
Met

Current, A

Each

Push Button Style

48V DC
2,000 A @ 48 V DC
Fuse Block
1.5"
0.87"
0.25"
-40° to 185°
IP40

SAE J553
7

1/2

000000
000000