System of Measurement

System of Measurement
Show
DFARS (Defense Acquisition Regulations Supplement)

DFARS

(Defense

Acquisition

Regulations

Supplement)
RoHS (Restriction of Hazardous Substances)

RoHS

(Restriction

of
Hazardous

Substances)
REACH (Registration, Evaluation, Authorization and Restriction of Chemicals)

REACH

(Registration,




Evaluation,

Authorization
and Restriction of

Chemicals)
T-Slotted

Framing Grounding Terminals and Breakers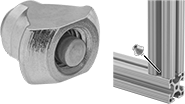 Breaker
Control static and ground T-slotted framing structures with these bonding and grounding components.
Breakers pierce the anodized coating, bonding two T-slotted rails to prevent static sparking. Use a hex key to install breakers at a 45° angle to make contact with both rails. Also known as potential equalizers.
For technical drawings and 3-D models, click on a part number.
Single
Double
and Quad
Triple
Drive


Size,

mm
Color
Material
Each

Breaker

1

1/2

", 40mm
3", 80mm
4

1/2

"
3
Silver
Zinc-Plated Steel
00000000
00000