About
Flow-Adjustment

Valves
Threaded
Flow-Adjustment

Valves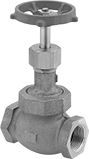 Straight with Wheel Handle
These valves gradually open and close to adjust and regulate flow.
Wheel handles open and close with multiple turns, providing more controlled, shock-resistant flow than lever handles.
Rising stems lift as the valve opens and lower as the valve closes to provide a visual indication of whether flow is on or off. The stem is isolated from the process media for a longer service life than valves with a nonrising stem.
316 stainless steel valves are more corrosion resistant than bronze valves.
Flow coefficient (Cv) is the amount of water (in gallons per minute) at 60° F that will flow through a fully open valve with a difference of 1 psi between the inlet and the outlet.
For technical drawings and 3-D models, click on a part number.
316 Stainless Steel Body—Pressure Class Not Rated
Valve

Type:

Globe

For Use

With:




NPT:

Water,

Oil,

Steam


BSPT:

Water,

Oil,

Argon,

Helium,

Krypton,

Neon,

Steam,

Xenon
Pipe
Size

Flow
Coefficient

(Cv)

Max.

Pressure

Max.

Steam Pressure
Temperature


Range,

°F

End-to-End




Lg.

Stem
Type
Each

BSPT Female × BSPT

Female—

Straight

1/2

3.8
200 psi @ 350° F
200 psi @ 350° F
0° to 350°
2

5/8

"
Rising
0000000
0000000

3/4

7
200 psi @ 350° F
200 psi @ 350° F
0° to 350°
2

15/16

"
Rising
0000000
000000
1

11
200 psi @ 350° F
200 psi @ 350° F
0° to 350°
3

5/8

"
Rising
0000000
000000
1

1/2

29
200 psi @ 350° F
200 psi @ 350° F
0° to 350°
4

11/16

"
Rising
0000000
000000
2

50
200 psi @ 350° F
200 psi @ 350° F
0° to 350°
5

1/2

"
Rising
0000000
000000