About
Copper,

Brass,

and Bronze
High-Strength

Formable 544 Bearing Bronze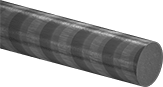 Yield

Strength:

50,

000 psi

Hardness:

Not Rated

Temper:

H04

(Full

Hard)

Heat

Treatable:

No
Specifications

Met:

ASTM B139
Known for its ability to resist stress cracking and fatigue, 544 bronze also offers good formability and excellent machinability. It's commonly called phosphor bronze. In addition to bearings, it is often used for shafts, gears, and valve parts.
For technical drawings and 3-D models, click on a part number.

Certificates with a traceable lot number are available for these products. Download certificates from ORDER HISTORY after your order ships.