Chip Brushes

D
Commonly used to sweep away debris created during milling, drilling, and cutting, these brushes can also be used for light cleaning.
Soft-bristle brushes are ideal for fine sweeping.
Style D and E brushes are best for light cleaning in tight spaces and on very small parts.
Static Control Dust Brushes

With Upright Handle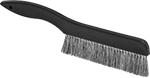 With Curved Handle

With Curved Handle and Grounding Cord
With a blend of soft natural hair and conductive synthetic fibers, these brushes dissipate static without scratching surfaces. Use them for sweeping dust and lint from lenses, circuit boards, and other sensitive electronics. They are also known as ESD (electrostatic discharge) brushes.
Often used in high-static environments, brushes with grounding cord safely transfer the static charge from your object into the ground.
Lg.

Wd.

Overall


Lg.

Lg.

Material
Firmness
Color
Style
Material
Color
Features
Each

3/4

"

1/4

"

3/4

"

7/8

"
Acrylic Fiber/Goat Hair
Soft
Gray
Upright
Plastic
Black
__
0000000
00000
1

1/4

"

1/4

"
1

1/4

"
1

1/4

"
Acrylic Fiber/Goat Hair
Soft
Gray
Upright
Plastic
Black
__
0000000
00000
2

1/2

"

1/4

"
2

1/2

"
1

1/4

"
Acrylic Fiber/Goat Hair
Soft
Gray
Upright
Plastic
Black
__
0000000
00000
4"

1/4

"
4"
1

1/4

"
Acrylic Fiber/Goat Hair
Soft
Gray
Upright
Plastic
Black
__
0000000
00000
5

1/2

"

1/4

"
9

3/4

"
1

1/4

"
Acrylic Fiber/Goat Hair
Soft
Gray
Curved
Plastic
Black
__
0000000
00000
5

1/2

"

1/4

"
9

3/4

"
1

1/4

"
Acrylic Fiber/Goat Hair
Soft
Gray
Curved
Plastic
Black
3-ft. Lg. Grounding Cord
0000000
00000
11"

1/2

"
16

3/4

"
1

1/4

"
Acrylic Fiber/Goat Hair
Soft
Gray
Curved
Plastic
Black
__
0000000
00000
11"

1/2

"
16

3/4

"
1

1/4

"
Acrylic Fiber/Goat Hair
Soft
Gray
Curved
Plastic
Black
3-ft. Lg. Grounding Cord
0000000
000000