Inside Bucket Width

Inside Bucket Width
Inside Bucket Length

Inside Bucket Length
DFARS (Defense Acquisition Regulations Supplement)

DFARS

(Defense

Acquisition
Regulations

Supplement)
For Maximum Mop Head Weight

For Maximum
Mop Head Weight
RoHS (Restriction of Hazardous Substances)

RoHS

(Restriction

of
Hazardous

Substances)
REACH (Registration, Evaluation, Authorization and Restriction of Chemicals)

REACH

(Registration,




Evaluation,

Authorization
and Restriction of

Chemicals)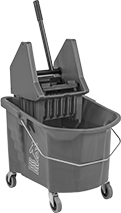 Plastic Downward Wringer
Downward-style wringers have an off-center-mounted handle that moves two wringer plates downward against the mop to squeeze out more water than the sideward-style wringer.
Easy-Empty

Mop Buckets with Wringer
Drain water from the bottom of the bucket. All are sideward-style wringers, which have a side-mounted handle that moves an inner wringer plate forward against the wet mop.
Galvanized steel buckets resist corrosion.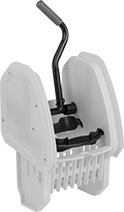 Plastic Downward Wringer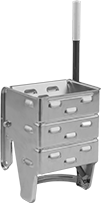 Galvanized Steel Sideward Wringer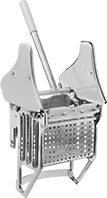 Galvanized Steel and Stainless Steel Downward Wringer