How to

Identify and Measure Fittings
Pipe size is an industry designation, not the actual size. View information about how to measure threaded and unthreaded pipe and pipe fittings.
Quick-Disconnect

Couplings for Plastic and Rubber

Tubing—

Chemicals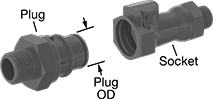 For Use

With:

Ammonia,

Ethanol,

Phosphoric Acid

(70%),

Sodium Carbonate
Temperature

Range:

32° to 160° F
Couplings consist of a plug and a socket (sold separately) that join with a latch, so you can frequently connect and disconnect your line. To connect, insert the plug into the socket; to disconnect, press the latch on the socket and remove the plug. Plugs and sockets are polypropylene, which has excellent chemical, impact, and abrasion resistance.
Plugs and sockets with shut-off have a valve to stop the flow when the coupling is separated so fluid won't spill from your line.
Note: For a complete coupling, order a plug and a socket with the same coupling size.
For technical drawings and 3-D models, click on a part number.
Through-Wall Straight Sockets, Barbed Tube

Barbed sockets insert into tubing and secure with a clamp.
Through-wall sockets are also known as bulkhead sockets and panel-mount sockets; they mount through your wall or panel to create an inlet or outlet.
Coupling
Size
For Plug
OD
For
Tube ID
Material
Color

Max.

Pressure
For Hole


Dia.

For

Max.


Wall

Thick.

Each

Open Flow

1/8

5/16

"

1/8

"
Polypropylene Plastic
Beige
120 psi @ 72° F

1/2

"

1/2

"
00000000
000000

1/8

5/16

"

1/4

"
Polypropylene Plastic
Beige
120 psi @ 72° F

1/2

"

1/2

"
00000000
00000

1/4

7/16

"

1/4

"
Polypropylene Plastic
Beige
120 psi @ 72° F

11/16

"

1/2

"
00000000
00000

1/4

7/16

"

3/8

"
Polypropylene Plastic
Beige
120 psi @ 72° F

11/16

"

1/2

"
00000000
00000

3/8

3/4

"

3/8

"
Polypropylene Plastic
Gray
60 psi @ 72° F
1

3/16

"

1/4

"
00000000
00000

3/8

3/4

"

1/2

"
Polypropylene Plastic
Gray
60 psi @ 72° F
1

3/16

"

1/4

"
00000000
00000

1/8

5/16

"

1/8

"
Polypropylene Plastic
Beige
120 psi @ 72° F

1/2

"

1/2

"
00000000
00000

1/8

5/16

"

1/4

"
Polypropylene Plastic
Beige
120 psi @ 72° F

1/2

"

1/2

"
00000000
00000

1/4

7/16

"

1/4

"
Polypropylene Plastic
Beige
120 psi @ 72° F

11/16

"

1/2

"
00000000
00000

1/4

7/16

"

3/8

"
Polypropylene Plastic
Beige
120 psi @ 72° F

11/16

"

1/2

"
00000000
00000

3/8

3/4

"

3/8

"
Polypropylene Plastic
Gray
60 psi @ 72° F
1

3/16

"

1/4

"
00000000
00000

3/8

3/4

"

1/2

"
Polypropylene Plastic
Gray
60 psi @ 72° F
1

3/16

"

1/4

"
00000000
00000