Close
About Selecting Shock Absorbers
To select the best shock absorber for your application, you need to find the energy capacity your application requires. Use this formula to calculate the energy capacity required to stop a horizontal-moving load. For example, if you have a 250-lb. load moving at 25 inches per second, your calculation is (250 lbs. ÷ 772) × 252 = 202.4 in.-lbs. energy capacity.
Note: Choose a shock absorber with a higher energy capacity than you calculated. Factors such as driving force or an inclined surface will increase the energy capacity required.
Energy Capacity (in.-lbs.) = (Weight, lbs./772) × Velocity2 (in. per second)
Light Duty Adjustable Shock Absorbers
Also known as snubbers, use these shock absorbers in low-load, high-cycle applications. They counteract the energy of moving objects to prevent damage to equipment and material. Turn the knob to change deceleration to suit varying loads and speeds. Through-wall shock absorbers have a stud and nut under the removable knob for mounting through a panel or bracket.
For technical drawings and 3-D models, click on a part number.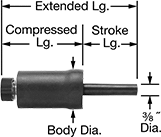 Energy


Cap.,




in.-lbs.

Max.


Cycles
per Minute
Stroke


Lg.

Extended


Lg.

Compressed


Lg.

Body


Dia.

Body
Material

Dia.

Material
Thread
Size

Lg.

Each

Variable Adjustment

4
600
1.1"
4.32"
2.99"
1.01"
Rubber-Coated Borosilicate Glass
0.375"
Urethane

3/8

"-32

1/8

"
0000000
000000
9
330
1.3"
4.15"
2.62"
1.35"
Rubber-Coated Borosilicate Glass
0.375"
Urethane

3/8

"-32

1/8

"
0000000
00000