Selecting Clamps Using
Pipe,

Conduit,

or Tubing Trade Size
Sanitary Heavy Duty Swivel Leveling Mounts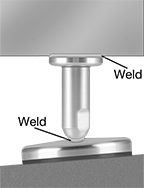 Weld your equipment to the
base of the thread
cover,
and
weld the stem to the
footplate.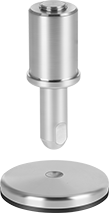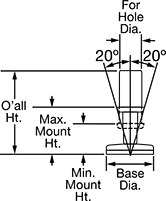 Designed for use in sanitary and food processing areas, these mounts level tanks and machinery on uneven floors and create space to clean underneath. You can also use them to distribute the weight of heavy equipment across multiple supports. They have extremely smooth sides and rounded edges to eliminate crevices where bacteria could grow, and a thread cover to keep contaminants off of the stud. These self-draining mounts have no horizontal surfaces, so liquids and foods will drain off completely.
Made from 304 stainless steel, these mounts won't corrode from frequent washdowns with water and harsh cleaners. The rubber foot pad seals tight to floors to keep bacteria from growing underneath the mount—it also keeps equipment from moving. This pad helps minimize vibration, which reduces noise, protects your floors, and helps prolong the life of machines. You can remove the pad for metal-only applications.
A silicone seal at the base of the thread cover helps keep contaminants out. It's made with metal and chemical additives, so you can find it with a metal detector or X-ray machine if it falls into your line. This helps you comply with Hazard Analysis and Critical Control Point (HACCP) programs. The seal is also FDA compliant, so it's safe for direct contact with food.
To install these mounts, insert through a hole in the leg or frame of your equipment and continuously weld the seam to seal the connection. These mounts swivel to help you position your equipment on slightly uneven floors; for very uneven floors, use the threaded stud to raise each mount to a level height. Once you have achieved the desired angle and height, continuously weld the base of the stud to the footplate. This weld locks the stud in place and keeps bacteria out.
For technical drawings and 3-D models, click on a part number.
For Hole


Dia.,

mm
Mounting


Ht.,

mm
Capacity per


Mount,

lbs.

Dia.,


mm

Ht.,


mm
Overall


Ht.,

mm

Temp.




Range,

°F

Specifications Met
Each

304 Stainless Steel with Rubber Cushion

52
56 - 85
6,000
109
15
151
0° to 230°
FDA Compliant 21 CFR 177.2600

0000000
0000000
62
63 - 92
6,000
109
15
151
0° to 230°
FDA Compliant 21 CFR 177.2600

0000000
000000
Two-Line

Weld-Mount

Vibration-Damping

Routing Clamps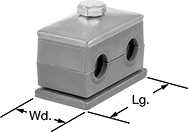 Secure two pressurized hydraulic lines with a single clamp to lessen vibration in hydraulic systems. Weld the bottom plate onto the mounting surface for a more secure connection than rail- and adhesive-mount clamps. To install, weld the bottom plate onto the mounting surface.
Zinc-plated steel and zinc-phosphate-coated steel plates have good corrosion resistance. 304 stainless steel plates have excellent corrosion resistance.
Stacking clamps allow you to route multiple lines on top of each other. They include fasteners and a plate for attaching to regular clamps or other stacking clamps. Stacking clamps cannot be used alone.
For technical drawings and 3-D models, click on a part number.
Inch

Metric,


mm
For
Pipe
Size

Color

Lg.

Wd.

Ht.

Clamping
Fasteners
Included

Max.




Pressure,


psi

Temp.




Range,




°F

For
Use
Outdoors
Specifications
Met
Each
Each

Polypropylene Plastic

Zinc-Plated

Steel Top Plate and

Zinc-Phosphate-Coated

Steel Bottom Plate

5/16

"
8
__
Green
1

7/16

"
1

3/16

"
1

1/16

"
Yes
2,000
-20° to 190°
No
DIN 3015-3
00000000
00000
00000000
00000

1/2

"
12

1/8

Green
1

7/16

"
1

3/16

"
1

1/16

"
Yes
2,000
-20° to 190°
No
DIN 3015-3
00000000
0000
0000000
0000

1/2

"
14

1/8

Green
2

1/16

"
1

3/16

"
1

1/16

"
Yes
2,000
-20° to 190°
No
DIN 3015-3
00000000
0000
00000000
0000

9/16

"
14

1/4

Green
2

1/16

"
1

3/16

"
1

1/16

"
Yes
2,000
-20° to 190°
No
DIN 3015-3
00000000
0000
00000000
0000

9/16

"
15

1/4

Green
2

1/16

"
1

3/16

"
1

1/16

"
Yes
2,000
-20° to 190°
No
DIN 3015-3
00000000
0000
00000000
0000

11/16

"
18

3/8

Green
2

1/16

"
1

3/16

"
1

1/16

"
Yes
2,000
-20° to 190°
No
DIN 3015-3
00000000
0000
00000000
0000

13/16

"
20

1/2

Green
2

5/8

"
1

3/16

"
1

7/16

"
Yes
2,000
-20° to 190°
No
DIN 3015-3
00000000
0000
00000000
0000

7/8

"
25
__
Green
2

5/8

"
1

3/16

"
1

7/16

"
Yes
2,000
-20° to 190°
No
DIN 3015-3
00000000
0000
00000000
0000
1

1/8

"
28

3/4

Green
3

1/8

"
1

3/16

"
1

9/16

"
Yes
2,000
-20° to 190°
No
DIN 3015-3
00000000
0000
00000000
0000
1

3/16

"
30
__
Green
3

1/8

"
1

3/16

"
1

9/16

"
Yes
2,000
-20° to 190°
No
DIN 3015-3
0000000
0000
00000000
0000
1

3/8

"
35
1

Green
4

3/16

"
1

3/16

"
2

1/16

"
Yes
2,000
-20° to 190°
No
DIN 3015-3
00000000
0000
00000000
0000
1

9/16

"
42
__
Green
4

3/16

"
1

3/16

"
2

1/16

"
Yes
2,000
-20° to 190°
No
DIN 3015-3
00000000
0000
00000000
0000

304 Stainless Steel Top and Bottom Plates

5/16

"
8
__
Green
1

7/16

"
1

3/16

"
1

1/16

"
Yes
2,000
-20° to 190°
Yes
DIN 3015-3
00000000
0000
00000000
0000

1/2

"
12

1/8

Green
1

7/16

"
1

3/16

"
1

1/16

"
Yes
2,000
-20° to 190°
Yes
DIN 3015-3
00000000
0000
00000000
0000

1/2

"
14

1/8

Green
2

1/16

"
1

3/16

"
1

1/16

"
Yes
2,000
-20° to 190°
Yes
DIN 3015-3
00000000
00000
00000000
00000

9/16

"
14

1/4

Green
2

1/16

"
1

3/16

"
1

1/16

"
Yes
2,000
-20° to 190°
Yes
DIN 3015-3
00000000
00000
00000000
00000

13/16

"
20

1/2

Green
2

5/8

"
1

3/16

"
1

7/16

"
Yes
2,000
-20° to 190°
Yes
DIN 3015-3
0000000
00000
00000000
00000

7/8

"
25
__
Green
2

5/8

"
1

3/16

"
1

7/16

"
Yes
2,000
-20° to 190°
Yes
DIN 3015-3
00000000
00000
00000000
00000
1

1/8

"
28

3/4

Green
3

1/8

"
1

3/16

"
1

9/16

"
Yes
2,000
-20° to 190°
Yes
DIN 3015-3
00000000
00000
00000000
00000
1

3/16

"
30
__
Green
3

1/8

"
1

3/16

"
1

9/16

"
Yes
2,000
-20° to 190°
Yes
DIN 3015-3
00000000
00000
00000000
00000
1

3/8

"
35
1

Green
4

3/16

"
1

3/16

"
2

1/16

"
Yes
2,000
-20° to 190°
Yes
DIN 3015-3
00000000
00000
00000000
00000