How to

Identify and Measure Fittings
Pipe size is an industry designation, not the actual size. View information about how to measure threaded and unthreaded pipe and pipe fittings.
Quick-Disconnect

Hose Couplings for Compressed Gas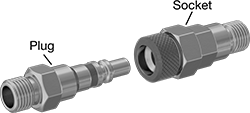 Use these couplings to quickly link and unlink welding hoses, torches, and pressure regulators. They consist of a plug and socket that are sold together as a set of two—you'll get one right-hand connection for oxygen and one left-hand connection for fuel gas. The connections are noninterchangeable and color coded so you can't mix lines. The male threaded ends attach to threaded welding hose, and the female threaded ends attach to a torch or pressure regulator. To connect couplings, push the plug into the socket; the sleeve on the socket has a spring-loaded lock for gas-tight connections. To disconnect, pull back on the socket sleeve and twist to release the plug. The sockets have a shut-off valve that stops the flow when the coupling is separated so gas won't leak from the line. The sockets also have a built-in check valve to prevent gas backflow. Couplings are also known as CGA (Compressed Gas Association) couplings. They are brass for good corrosion resistance.
Couplings with left-hand threads are identified with a notch in the nut.
Note: Couplings have a CGA number that corresponds to a specific type of gas. Make sure the CGA number of the coupling matches the CGA number of your tank and other system components.
For technical drawings and 3-D models, click on a part number.
Brass Plug and Socket Sets, Male Hose × Female Torch

Maximum

Pressure:

200

psi @

72° F

Maximum

Temperature:

120° F

Specifications

Met:

OSHA 29 CFR

1915.55,

OSHA 29 CFR

1917.152,

OSHA 29 CFR

1926.350,

UL Listed
Includes
Gas
Fitting
Size
Thread
Size

Thread
Type
Thread
Direction
For
Use
With
Each
One CGA 022 Coupling Adapter (Male Hose Plug × Female Torch Socket)
One CGA 023 Coupling Adapter (Male Hose Plug × Female Torch Socket)
B

9/16

"-18

UN/UNF (CGA)

Right Hand (CGA 022), Left Hand (CGA 023)
Acetylene, Butane, Fuel Gases, LP Gas, Natural Gas, Oxygen, Propane
000000
000000
Brass Plug and Socket Sets, Male Hose × Female Regulator

Maximum

Pressure:

200

psi @

72° F

Maximum

Temperature:

120° F

Specifications

Met:

OSHA 29 CFR

1915.55,

OSHA 29 CFR

1917.152,

OSHA 29 CFR

1926.350,

UL Listed
Includes
Gas
Fitting
Size
Thread
Size

Thread
Type
Thread
Direction
For
Use
With
Each
One CGA 022 Coupling Adapter (Male Hose Plug × Female Regulator Socket)
One CGA 023 Coupling Adapter (Male Hose Plug × Female Regulator Socket)
B

9/16

"-18

UN/UNF (CGA)

Right Hand (CGA 022), Left Hand (CGA 023)
Acetylene, Butane, Fuel Gases, LP Gas, Natural Gas, Oxygen, Propane
000000
0000000