Automotive and
Glass-Tube

Fuse Assortments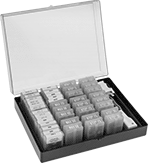 Includes a variety of blade-style automotive fuses and fast-acting glass-tube fuses.
Total Number
of Pieces
Includes
Container
Type
Specifications
Met
Each
180
135 assorted Mini-Blade, Standard-Blade, and Maxi-Blade Fast-Acting and Time-Delay Automotive Fuses; 45 assorted Fast-Acting 3AG Glass-Tube Fuses; Three Fuse Puller/Testers
Plastic Box
UL Listed

0000000
0000000
Automotive Fuses

Mini Blade Style
These fuses are suitable for low-voltage automotive and other electronic applications. Use with Fuse Blocks for Automotive Fuses.
Breakthrough current, labeled on the fuse as IR, is the maximum current that a fuse can safely stop in the event of a short circuit.
Fast-acting fuses open circuits quickly when surges are detected.
Fuses with blown fuse indicator have a light that turns on when the fuse blows.
Current, A

Voltage
Breakthrough
Current

Lg.

Ht.

Blade


Ht.

Protection
Type
Number
of
Elements
Blown
Fuse
Indicator
Specifications
Met

Pkg.




Qty.

Pkg.

Manufacturer

Equivalent:

297,

AF2,

ATM

Mini Blade Style

2
32V DC
1,000 A @ 32 V DC
0.43"
0.65"
0.3"
Fast Acting
1
No
UL Listed

5
00000000
00000
3
12V DC
1,000 A @ 12 V DC
0.43"
0.65"
0.3"
Fast Acting
1
Yes
__
2
00000000
0000
3
32V DC
1,000 A @ 32 V DC
0.43"
0.65"
0.3"
Fast Acting
1
No
UL Listed

5
00000000
0000
4
32V DC
1,000 A @ 32 V DC
0.43"
0.65"
0.3"
Fast Acting
1
No
UL Listed

5
00000000
0000
5
12V DC
1,000 A @ 12 V DC
0.43"
0.65"
0.3"
Fast Acting
1
Yes
__
2
00000000
0000
5
32V DC
1,000 A @ 32 V DC
0.43"
0.65"
0.3"
Fast Acting
1
No
UL Listed

5
00000000
0000
7

1/2

12V DC
1,000 A @ 12 V DC
0.43"
0.65"
0.3"
Fast Acting
1
Yes
__
2
00000000
0000
7

1/2

32V DC
1,000 A @ 32 V DC
0.43"
0.65"
0.3"
Fast Acting
1
No
UL Listed

5
00000000
0000
10
12V DC
1,000 A @ 12 V DC
0.43"
0.65"
0.3"
Fast Acting
1
Yes
__
2
00000000
0000
10
32V DC
1,000 A @ 32 V DC
0.43"
0.65"
0.3"
Fast Acting
1
No
UL Listed

5
00000000
0000
15
12V DC
1,000 A @ 12 V DC
0.43"
0.65"
0.3"
Fast Acting
1
Yes
__
2
00000000
0000
15
32V DC
1,000 A @ 32 V DC
0.43"
0.65"
0.3"
Fast Acting
1
No
UL Listed

5
00000000
0000
20
12V DC
1,000 A @ 12 V DC
0.43"
0.65"
0.3"
Fast Acting
1
Yes
__
2
00000000
0000
20
32V DC
1,000 A @ 32 V DC
0.43"
0.65"
0.3"
Fast Acting
1
No
UL Listed

5
00000000
0000
25
12V DC
1,000 A @ 12 V DC
0.43"
0.65"
0.3"
Fast Acting
1
Yes
__
2
00000000
0000
25
32V DC
1,000 A @ 32 V DC
0.43"
0.65"
0.3"
Fast Acting
1
No
UL Listed

5
00000000
0000
30
12V DC
1,000 A @ 12 V DC
0.43"
0.65"
0.3"
Fast Acting
1
Yes
__
2
00000000
0000
30
32V DC
1,000 A @ 32 V DC
0.43"
0.65"
0.3"
Fast Acting
1
No
UL Listed

5
00000000
0000