How to

Determine Feet of Head
PTFE
Air-Powered

Transfer Pumps for Harsh Chemicals
With all PTFE wetted parts, these pumps offer the best chemical resistance of all our air-powered transfer pumps and can handle solvents and petroleum-based fluids that PVDF pumps can't. Pumps are self-priming, which means they create a suction force to draw liquid upward to fill the pump chamber. All can run dry.
Fluid-side maintenance kits include diaphragms, check valve balls, and seals.
Air-motor maintenance kits include seals, O-rings, gaskets, retaining rings, and an air valve spool.
Threaded Side Intake and Side Discharge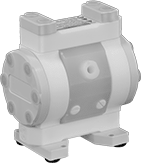 Max.

Flow


Rate,


gpm
Air


Consumption,


cfm
Air
Connection


(NPT)

Intake Pipe
Connection


(NPT)

Discharge Pipe
Connection


(NPT)

Lg.

Wd.

Ht.

Each

231

Max.

ft.

of

Head—

100 psi

Max.

Discharge Pressure

2.5
4.8

1/8

Female

1/4

Female

1/4

Female
3

3/8

"
5

1/2

"
6

1/2

"
000000
000000000
6.7
9.3

1/8

Female

3/8

Female

3/8

Female
3

1/2

"
5

7/8

"
7

5/8

"
000000
00000000
16
29

1/4

Female

1/2

Female

1/2

Female
6"
9

3/16

"
8"
000000
00000000
39
46

1/4

Female
1 Female
1 Female
8"
10

7/8

"
10

3/8

"
000000
00000000
| | | | |
| --- | --- | --- | --- |
| Fluid-Side Maintenance Kit for 2925N1 | 0000000 | Each | 0000000 |
| Air-Motor Maintenance Kit for 2925N1 | 0000000 | Each | 000000 |
| Fluid-Side Maintenance Kit for 2925N4 | 0000000 | Each | 000000 |
| Air-Motor Maintenance Kit for 2925N4 | 0000000 | Each | 000000 |
| Fluid-Side Maintenance Kit for 2925N2 | 0000000 | Each | 000000 |
| Air-Motor Maintenance Kit for 2925N2 | 0000000 | Each | 000000 |
| Fluid-Side Maintenance Kit for 2925N3 | 0000000 | Each | 000000 |
| Air-Motor Maintenance Kit for 2925N3 | 0000000 | Each | 000000 |