Abrasive Blaster Safety Switches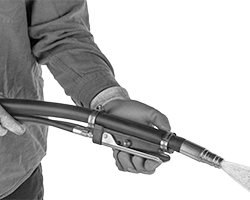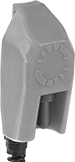 Toggle Style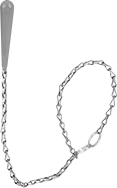 Safety Guard
Add these switches to your abrasive blasting hose to prevent it from spraying if the operator loses control. Also known as deadman switches, they prevent injuries and reduce wasted material by springing back to the off position when the operator lets go. All are for use with blasting systems that allow remote control blasting. Attach to your hose with hose clamps.
Electric—These switches send an electric signal to the control panel on the blaster to stop the spray. Because the signal is electric, these switches respond quickly even when your hose is long. They're recommended for hose that's over 100-ft. long and required by OSHA standards for hose that's over 200-ft. long. Switches with toggle actuators are smaller and lighter than switches with handle actuators, so they're less tiring on longer jobs. They may be harder to use with bulky gloves than handle actuators, however. Press and hold the toggle with your thumb.
Safety Guards for Electric Toggle Switches—To reduce fatigue on especially long jobs without compromising safety, add one of these safety guards to your toggle switch. If you drop the switch, the chain pulls the guard out from under the toggle, and the hose turns off.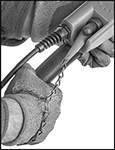 Safety Guard Shown with Toggle Switch
Actuator
Style
Switch
Starting
Position

No.


of
Terminals
Industry
Designation
Switching
Current @
Voltage

Max.


Voltage
Housing
Material
Electrical
Connection
Type
Wire
Lead


Lg.,

ft.

Wd.

Lg.

Ht.

Each
Toggle
2 Off (Normally Open)
6
DPDT
10 A @ 24 V DC
250V AC
Plastic
Hardwire
5
2

1/2

"
3"
2

1/2

"
0000000
0000000