Wire Wrap Tool
Use this tool to tightly wrap wire around a post terminal for a good connection. Insert the wire and the post into the tool; twist the tool to wind the wire around the post. To unwind, use the opposite end of the tool.
Size
Shape

Min.




Center-to-Center

Hole


Dia.

Hole


Dp.

For
Wire


Ga.

For

Max.


Wire
OD
Hole


Dia.

Hole


Dp.

For
Wire


Ga.

Handle
Material
Each
0.025"
Square
0.1"
0.04"
0.75"
28, 29
0.036"
0.038"
1"
32, 31, 30, 29, 28, 27, 26, 25, 24
Aluminum
0000000
0000000
Cable Benders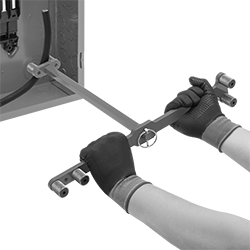 Benders Used with
T-Handle
Configuration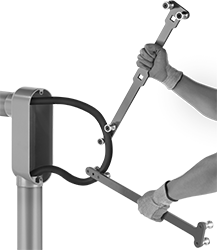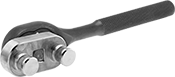 A (Wrench Sold Separately)
B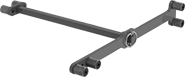 C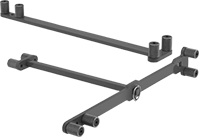 D
Reach inside panels, disconnects, and raceway to bend and position heavy duty cable with greater precision and less fatigue than bending by hand. The dies on the ends of these benders are sized to handle large wire gauges; fit your cable into the dies and push or pull the handle to bend.
Keep style A benders in your belt pouch for on-the-fly bends and especially tight spots. They attach to a standard 1/2" square drive ratchet wrench, which acts as the handle.
Style B benders have dies on both ends of the handle. The dies on one end of the bender are oriented differently than the dies on the other end, so if one end doesn't give you the leverage you need, you can flip the bender around and use the other end.
Especially useful for bending cable inside an enclosure, style C benders include a bender and a T-handle adapter. Fit the adapter into the center of the bender to use it like a large T-handle key or lug wrench. In the T-handle configuration, the tool delivers more torque than a bender alone. You can also use the bender by itself—the dies on either end of the bender are oriented differently, which means you can flip the bender around if one end doesn't give you the leverage you need.
For the most versatility, and for bending the thickest cable, style D benders include two long benders and one T-handle adapter. With a 22"-lg. bender in each hand, you'll have the most possible leverage—place the cable between the dies, and squeeze the two benders together like a bolt cutter. Another option, which is good for bending cable that's already inside an enclosure, is to attach the handle adapter to the bender to create a T- or L-shaped lug wrench. As a third option, use either one of the straight-handle benders on its own.
Smooth dies wear less on the cable's insulation than knurled dies but are also more likely to slip.
Knurled dies provide better grip and leverage on large cable than smooth dies but might scuff and wear soft insulation material.
Style

Max.




Dia.

Max.




ga.

No.


Included
Type
Includes
Square
Drive
Size

Lg.

Wd.

Ht.

Lg.

Material
Material
Each
A
0.938"
500 MCM
1
For Ratchet Wrench
2 Knurled Dies

1/2

"
3"
1

1/2

"
1

1/2

"
__
__
Aluminum
0000000
000000
B
0.625"
4/0
1
Straight
4 Smooth Dies
__
__
__
__
14"
Steel
__
0000000
000000
B
0.938"
500 MCM
1
Straight
4 Smooth Dies, 4 Knurled Dies
__
__
__
__
18"
Steel
__
0000000
000000
C
0.625"
4/0
1
1
Straight
T-Handle Adapter
6 Smooth Dies
__
__
__
__
14"
Steel
__
0000000
000000
C
0.938"
500 MCM
1
1
Straight
T-Handle Adapter
6 Smooth Dies, 6 Knurled Dies
__
__
__
__
18"
Steel
__
0000000
000000
D
1.094"
750 MCM
2
1
Straight
T-Handle Adapter
10 Smooth Dies, 10 Knurled Dies
__
__
__
__
22"
Steel
__
0000000
000000
| | | | |
| --- | --- | --- | --- |
| Ratchet Wrench for Style A | 00000000 | Each | 000000 |