Choosing an Electrical Switch
Cable-Pull

Emergency Stop Switches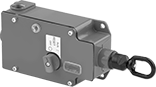 One Direction
with Power and Tension Indicator
Immediately cut power by pulling a cable. All have positive force, snap open contacts that will open the circuit when actuated even if a spring fails or the contacts stick. Cables must be held in position under tension.
Two-direction switches can be used with tension springs (sold separately) to open contacts and stop machinery if the cable breaks.
Switches with power indicator illuminate when the cable has been pulled.
Switches with tension indicator make it easier to set the correct cable tension.
Accessory kits (sold separately) simplify the installation of a new switch.
For technical drawings and 3-D models, click on a part number.
For

Max.


Cable


Lg.,

ft.

No.

of
Circuits
Controlled
Switch
Starting
Position

No.


of
Terminals
Industry
Designation
Switching
Current @
Voltage

Max.


Voltage
Actuation


Force,




lbs.

Conduit
Trade
Size

Fasteners
Included

No.


of
Holes
Hole


Dia.

Each
Includes
Each

With Screw Terminals

1 Direction

(IP65, NEMA 4)

15
1
1 Off (Normally Open) and 1 On (Normally Closed)
4
DPST-1NO/1NC
10 A @ 120 V AC
400V AC
18

1/2

No
4

1/4

"
00000000
0000000
Cable, Clamps, Tension Screws, Thimbles
00000000
0000000
30
1
1 Off (Normally Open) or 1 On (Normally Closed)
3
SPDT

10 A @ 120 V AC
380V AC
27

1/2

No
4

1/4

"
00000000
000000
Cable, Clamps, Tension Screws, Thimbles
00000000
000000
75
2
2 Off (Normally Open) or 2 On (Normally Closed)
6
DPDT

10 A @ 120 V AC
380V AC
45

1/2

No
4

1/4

"
00000000
000000
Cable, Clamps, Tension Screws, Thimbles
00000000
000000

1 Direction

with Power Indicator and Tension Indicator

(IP67, NEMA 4, NEMA 13)

250
1
1 Off (Normally Open) or 1 On (Normally Closed)
3
SPDT

6 A @ 120 V AC
300V AC
40

1/2

No
4

1/4

"
00000000
000000
__
000000
00
165
2
1 Off (Normally Open) and 1 On (Normally Closed)
4
DPST-1NO/1NC
1.1 A @ 120 V AC
240V AC
5

3/4

No
2

5/16

"
00000000
000000
Cable, Clamps, Eyebolts, Tension Screws, Tension Springs
00000000
000000