Mounting-Plate-End

Sleeve-Grip

Wire Rope End

Fittings—

Not for Lifting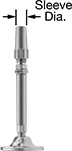 Create a wire rope railing, perimeter, or barrier. To install, mount the fitting to a wall or post, then unscrew the fitting, slide over the wire rope, and tighten the pieces together with a wrench. The plate has swivel ends. Made of 316 stainless steel, these are the most corrosion resistant fittings we offer.
Tensioning fittings have a body that can be rotated with a wrench to add tension to the wire rope. The body extends and retracts when adjusted.
Warning: Test all assemblies for required strength before use. Do not use with coated rope unless the coating is removed.
For technical drawings and 3-D models, click on a part number.
End
Type

Dia.

Construction
Overall


Lg.

Extended


Lg.

Retracted


Lg.

Max.


Adjustment

Max.


Pivot
Angle
Sleeve


Dia.

Number of
Mounting
Holes
For
Screw
Size

Mounting
Fasteners
Included
Capacity
Each

316 Stainless Steel

Standard

5/32

"
1 × 19 Strand Core
7 × 7 Strand Core
7 × 19 IWRC
7 × 19 Strand Core
2

1/4

"
__
__
__
45°

13/32

"
3
No. 8

Yes
80% of the Rope's Capacity
000000
000000
Tensioning

1/8

"
1 × 19 Strand Core
7 × 7 IWRC
7 × 7 Strand Core
7 × 19 IWRC
7 × 19 Strand Core
__
9

3/8

"
6

7/8

"
2

1/2

"
90°

9/16

"
2

1/4

"

Yes
70% of the Rope's Capacity
0000000
00000
Tensioning

5/32

"
1 × 19 Strand Core
7 × 7 Strand Core
7 × 19 IWRC
7 × 19 Strand Core
__
5

13/32

"
4

1/16

"
1

3/8

"
45°

3/8

"
3
No. 8

Yes
80% of the Rope's Capacity
000000
00000
Tensioning

3/16

"
1 × 19 Strand Core
7 × 7 IWRC
7 × 7 Strand Core
7 × 19 IWRC
7 × 19 Strand Core
__
10

3/4

"
7

3/4

"
3"
90°

3/4

"
2

5/16

"

Yes
70% of the Rope's Capacity
0000000
00000
Tensioning

1/4

"
1 × 19 Strand Core
7 × 7 IWRC
7 × 7 Strand Core
7 × 19 IWRC
7 × 19 Strand Core
__
12

7/16

"
9"
3

7/16

"
90°

27/32

"
2

5/16

"

Yes
70% of the Rope's Capacity
0000000
00000