Bale and Bundle Twist Ties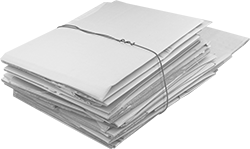 Secure large bundles such as lumber, cardboard, and wire coils. Feed the straight end through the loop and twist. Also known as baling wire. They're painted to resist corrosion.
Conductive Copper Foil Electrical Tape

Use this tape to modify printed circuit boards, shield components from EMI/RFI (electromagnetic interference/radio-frequency interference), and prototype wiring-board layout and design. It can be soldered.
Tape with conductive adhesive meets Mil. Spec. MIL-T-47012.
Wd.

Overall


Thick.

Adhesive
Type
Temperature


Range,

°F

Voltage
Rating
Specifications Met

Lg.,




ft.

Each

Nonconductive Adhesive

1/4

"
0.0029"
Acrylic
-40° to 325°
Not Rated
UL 510
18
000000000
00000

1/2

"
0.0029"
Acrylic
-40° to 325°
Not Rated
UL 510
18
000000000
00000

3/4

"
0.0029"
Acrylic
-40° to 325°
Not Rated
UL 510
18
000000000
00000
1"
0.0029"
Acrylic
-40° to 325°
Not Rated
UL 510
18
000000000
00000
2"
0.0029"
Acrylic
-40° to 325°
Not Rated
UL 510
18
000000000
00000
3"
0.0029"
Acrylic
-40° to 325°
Not Rated
UL 510
18
000000000
00000
6"
0.0029"
Acrylic
-40° to 325°
Not Rated
UL 510
18
00000000
000000

Conductive Adhesive

1/4

"
0.0035"
Acrylic
-40° to 325°
Not Rated
MIL-T-47012, UL 510
18
000000000
00000

1/2

"
0.0035"
Acrylic
-40° to 325°
Not Rated
MIL-T-47012, UL 510
18
000000000
00000

3/4

"
0.0035"
Acrylic
-40° to 325°
Not Rated
MIL-T-47012, UL 510
18
000000000
00000
1"
0.0035"
Acrylic
-40° to 325°
Not Rated
MIL-T-47012, UL 510
18
000000000
00000
2"
0.0035"
Acrylic
-40° to 325°
Not Rated
MIL-T-47012, UL 510
18
000000000
00000
3"
0.0035"
Acrylic
-40° to 325°
Not Rated
MIL-T-47012, UL 510
18
000000000
00000
6"
0.0035"
Acrylic
-40° to 325°
Not Rated
MIL-T-47012, UL 510
18
000000000
000000