The insulation on this cable withstands high-heat applications such as ovens and furnaces. The wires are silver or nickel plated for corrosion resistance.
Shielded cable has a layer of braid that blocks signal interference from nearby equipment and devices. It has PTFE outer and inner insulation that resists chemicals, oil, abrasion, and moisture.

Shielded
Use For:

Ovens and

Furnaces,

Interference Shielding
Flexible
Temperature

Range:

-65° to 390° F

Insulation:

PTFE Plastic
High-Voltage

Continuous-Flex

Flat Cable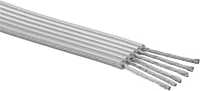 Use For:

Automation,

Continuous Motion
Continuous Flex
Temperature

Range:

-85° to 325° F

Insulation:

Silicone Rubber
Rated to 17,000 volts AC or higher, this cable is often used in oil drilling, robotics, and festoon systems. It withstands continuous motion without degrading data or signal transmission. With a flat shape, it's good for tight spaces. It meets UL 94 V-0 for flame retardance.
Bend radius is the point to which the cable will bend without being damaged. It is measured from the center of the bend to the edge of the cable. The smaller the measurement, the tighter the bend.
Wire


Ga.

No.


of
Wires
Cable
AWG

Current

Wd.

Thick.

Bend
Radius
Outer
Insulation
Color
Environment
Environmental
Rating
Specifications
Met

Length,




ft.

1-99

100-Up

Stranded Wire

22

3
22/3

11 A @ 86° F
0.25"
0.11"
1.1"
Clear
Clean Room

Fed. Std. Class 1, ISO Class 3
UL Recognized Component, CSA Certified, UL 94 V-0
00000000
00000
00000