Data Communication Cable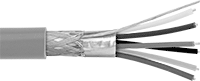 Use For:

Data,

Interference Shielding
Flexible
Temperature

Range:

0° to 175° F

Insulation:

PVC Plastic
Use this cable for complex data and signal transmission, such as in high-speed computers. It has braid and foil shielding that provides excellent protection against signal interference from nearby equipment and devices. The industry designation is CM and CMG, so it's approved for in-wall installation and has flame-resistant insulation. It has an uninsulated ground wire that is not counted in the number of wires.
Wire


Ga.

No.


of
Wires
Cable
AWG

Transmission


Speed,


Mbps
Capacitance
per
Foot
OD
Industry
Designation
Outer
Insulation
Color
Inner
Insulation
Color
Features

Length,




ft.

1-99

100-Up

Double-Shielded

Stranded Wire

300V AC

24

15
24/15

10
12.5 pF
0.35"
CM, CMG
Gray
Black, Black/White, Blue, Blue/Black, Blue/White, Green, Green/Black, Green/White, Orange, Orange/Black, Red, Red/Black, Red/White, White, White/Black
Uninsulated Ground Wire
00000000
00000
00000
Ribbon Cable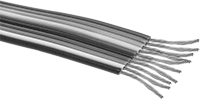 Use For:

Automation,

Data,

Panel and Equipment

(Hook

-

Up)

Ultra Flexible
Temperature

Range:

0° to 175° F

Insulation:

PVC Plastic
Often used in electronic prototyping or in the interior of computers, this flat cable is ultra flexible with small-gauge wires so it fits in tight spaces. Unlike standard flat control cable, the wires are bonded together without an overall insulation, so they can be easily separated for installation. Cable is flame rated VW-1 to meet requirements for preventing the spread of flames based on a timed test with vertically suspended material.