Motor Cable
This cable is used in variable-frequency drive motors. It has a layer of braid and foil shielding that provides excellent protection against signal interference caused by voltage fluctuations and current spikes. The industry designation is WTTC, so it can be installed in cable trays or raceway in a wind turbine generator. It's flame rated FT4 to meet requirements for preventing the spread of flames based on a timed test with material mounted to a vertical tray. The insulation resists oil.
Cable with power wires sends electricity to run a motor.
Cable with power and signal wires has an individually shielded pair of wires that connect to a brake or temperature sensor, reducing the number of cables used in areas with limited space.
MSHA approved cable meets Mine Safety and Health Administration (MSHA) standards for material quality.

Power
Use For:

Motors,

Interference Shielding
Flexible
Temperature

Range:

-40° to 220° F

Insulation:




Outer:

PVC Plastic


Inner:

Nylon

Plastic/PVC

Plastic
No.


of

Ga.

Cable
AWG

Current
OD
Outer
Insulation
Color
Inner
Insulation
Color
Features
Industry
Designation
Specifications
Met

Length,




ft.

1-99

100-Up

Double

Shielded—

1,000V

AC/1,500V

DC

4
18

18/4

7 A @ 86° F
0.39"
Black
Black, Green/Yellow
__
WTTC

UL Listed, C-UL Listed, Flame Rated FT4
0000000
00000
00000
4
16

16/4

10 A @ 86° F
0.46"
Black
Black, Green/Yellow
Uninsulated Ground Wire
WTTC

UL Listed, C-UL Listed, Flame Rated FT4
0000000
0000
0000
4
14

14/4

15 A @ 86° F
0.52"
Black
Black, Green/Yellow
__
WTTC

UL Listed, C-UL Listed, Flame Rated FT4
0000000
0000
0000
4
12

12/4

20 A @ 86° F
0.58"
Black
Black, Green/Yellow
__
WTTC

UL Listed, C-UL Listed, Flame Rated FT4
0000000
0000
0000
4
10

10/4

30 A @ 86° F
0.7"
Black
Black, Green/Yellow
__
WTTC

UL Listed, C-UL Listed, Flame Rated FT4
0000000
0000
0000
4
8

8/4

40 A @ 86° F
0.84"
Black
Black, Green/Yellow
__
WTTC

UL Listed, C-UL Listed, Flame Rated FT4
0000000
00000
00000
4
6

6/4

55 A @ 86° F
1"
Black
Black, Green/Yellow
__
WTTC

UL Listed, C-UL Listed, Flame Rated FT4
0000000
00000
00000
4
4

4/4

70 A @ 86° F
1.19"
Black
Black, Green/Yellow
__
WTTC

UL Listed, C-UL Listed, Flame Rated FT4
0000000
00000
00000
Power and Signal Wire—Stranded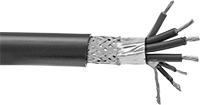 Power and Signal
Use For:

Motors,

Interference Shielding
Flexible
Temperature

Range:

-40° to 220° F

Insulation:

Polyethylene Plastic
No.


of

Ga.

Cable
AWG

No.


of

Ga.

Cable
AWG
Current
OD
Outer
Insulation
Color
Inner
Insulation
Color
Industry
Designation
Specifications
Met

5 ft.

10


ft.

20


ft.

30


ft.

50


ft.

Double

Shielded—

1,000V

AC/1,000V

DC

4
16
16/4
2
18
18/2
18 A @ 86° F
0.57"
Black
Black, Green/Yellow
WTTC

UL Listed, C-UL Listed, Flame Rated FT4
00000000
4
14
14/4
2
14
14/2
25 A @ 86° F
0.63"
Black
Black, Green/Yellow
WTTC

UL Listed, C-UL Listed, Flame Rated FT4
0000000
4
14
14/4
2
18
18/2
25 A @ 86° F
0.62"
Black
Black, Green/Yellow
WTTC

UL Listed, C-UL Listed, Flame Rated FT4
0000000
4
12
12/4
2
14
14/2
30 A @ 86° F
0.67"
Black
Black, Green/Yellow
WTTC

UL Listed, C-UL Listed, Flame Rated FT4
0000000
4
12
12/4
2
18
18/2
30 A @ 86° F
0.65"
Black
Black, Green/Yellow
WTTC

UL Listed, C-UL Listed, Flame Rated FT4
0000000
4
10
10/4
2
14
14/2
40 A @ 86° F
0.74"
Black
Black, Green/Yellow
WTTC

UL Listed, C-UL Listed, Flame Rated FT4
0000000
4
8
8/4
2
18
18/2
55 A @ 86° F
0.96"
Black
Black, Green/Yellow
WTTC

UL Listed, C-UL Listed, Flame Rated FT4
0000000
4
6
6/4
2
14
14/2
75 A @ 86° F
1.03"
Black
Black, Green/Yellow
WTTC

UL Listed, C-UL Listed, Flame Rated FT4
0000000