Often used to wire pendant switches, this cable hangs from an overhead connection. It's also known as bus drop cable.
The PVC insulation resists abrasion, chemicals, and oil.
Cable with strain relief has galvanized steel strain cables on the sides to provide strength and reduce the stress caused by equipment hanging from cable. Use the strain relief hardware (sold separately) to secure equipment to the cable.
Stranded Wire with Strain Relief
With Strain Relief
Use For:

Drop-Down

Power,

Outdoors
Flexible
Temperature

Range:

15° to 220° F

Insulation:

PVC Plastic
Wire


Ga.

No.


of
Wires
Cable
AWG
Current
OD
Outer
Insulation
Color
Inner
Insulation
Color
Specifications
Met

Length,




ft.

1-99

100-Up

600V AC

16
16
16/16
9 A @ 86° F
0.63"
Yellow
Black, Blue, Blue/Black, Blue/Red, Brown, Brown/Black, Brown/Red, Orange, Orange/Black, Orange/Red, Red, Red/Black, Yellow, Yellow/Black, Yellow/Red
UL Listed, C-UL Listed

0000000
00000
00000
| | | | |
| --- | --- | --- | --- |
| Strain Relief Hardware | 000000 | Each | 000000 |
Control Cable

Unshielded
Use For:




Unshielded:

Automation


Shielded:

Automation;

Interference Shielding
Flexible
Temperature

Range:

45° to 190° F

Insulation:

PVC Plastic
Use unshielded cable in applications where signal interference is not a concern.
Continuous-Flex

Data Communication Cable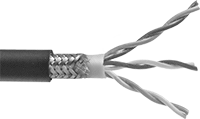 Use For:

Automation,

Continuous

Motion,

Data,

Interference Shielding
Continuous Flex
Temperature

Range:


PVC Plastic

Insulation:

25° to 155° F


TPE Rubber

Insulation:

-30° to 210° F
Often used to send signal and data to order pickers and cranes, this cable withstands continuous motion applications without degrading data or signal transmission. In addition to a layer of braid shielding, it has twisted pairs of wires that cancel signal interference from multiple transmission lines. Suitable for clean rooms, they release minimal particles into the air. All are CE marked as compliant with European health, safety, and environmental standards.
Cable with PVC insulation is for indoor use.
Cable with TPE rubber insulation is for outdoor use and resists coolant, oil, and UV light.
Wire


Ga.

No.

of
Wires
Cable
AWG

OD
Bend
Radius
Outer
Insulation
Color
Environmental
Rating
Specifications
Met

Length,




ft.

1-99

100-Up

Shielded Stranded Wire with PVC Plastic Insulation

300V AC

24
16
24/16

0.45"
3.08"
Gray
ISO Class 1
UL Recognized Component, CE Marked, C-UL Recognized Component, Flame Rated VW-1, NFPA 79
0000000
00000
00000

Shielded Stranded Wire with TPE Rubber Insulation

300V AC

22
16
22/16

0.49"
3.47"
Blue
ISO Class 1
CE Marked

0000000
0000
0000