Extended-Reach

Slide-Bolt

Latches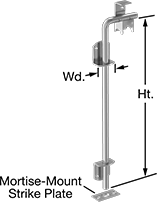 Bolt with Strike Plate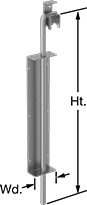 Bolt without Strike Plate
Also known as cane bolts, these latches have the added height that's needed to bridge large vertical gaps. Install them at the top or bottom of swinging doors and gates to hold them in an open or closed position. They are reversible for right- and left-hand mounting.
Mount bolts without a strike plate by drilling a hole to secure the bolt. Use bolts with a C bracket as a template to drill a hole.
For technical drawings and 3-D models, click on a part number.
Mortise-Mount


Strike Plate

Ht.

Wd.

Projection
Bolt


Dia.

Wd.

Dp.

Orientation
Fasteners
Included

Dia.

Style
Features
Color
Each
12"
2"
1

3/8

"

5/8

"
2

3/4

"
1

3/8

"
Vertical
Yes

3/8

"
Straight
__
__
0000000
000000
18"
2"
1

3/8

"

5/8

"
2

3/4

"
1

3/8

"
Vertical
Yes

3/8

"
Straight
__
__
0000000
00000
24"
2"
1

3/8

"

5/8

"
2

3/4

"
1

3/8

"
Vertical
Yes

3/8

"
Straight
__
__
0000000
00000
24"
3

1/4

"
1

1/2

"

5/8

"
__
__
Vertical
No

1/4

"
Straight
C-Bracket
__
00000000
00000
24"
2"
1

3/8

"

1/2

"
__
__
Vertical
Yes

1/4

"
Straight
__
Black
00000000
00000
36"
2"
1

5/8

"
1"
__
__
Vertical
Yes

1/4

"
Straight
__
Black
00000000
00000
48"
2"
1

3/8

"

3/4

"
__
__
Vertical
Yes

1/4

"
Straight
__
Black
00000000
00000

304 Stainless

Steel—

Polished

12"
2"
1

3/8

"

5/8

"
2

3/4

"
1

3/8

"
Vertical
Yes

1/4

"
Straight
__
__
0000000
00000
18"
2"
1

3/8

"

5/8

"
2

3/4

"
1

3/8

"
Vertical
Yes

1/4

"
Straight
__
__
0000000
00000
24"
2"
1

3/8

"

5/8

"
2

3/4

"
1

3/8

"
Vertical
Yes

1/4

"
Straight
__
__
0000000
00000

Powder-Coated

304 Stainless Steel

24"
2"
1

3/8

"

5/8

"
__
__
Vertical
Yes

1/4

"
Straight
__
Black
00000000
00000
36"
2"
1

3/8

"

5/8

"
__
__
Vertical
Yes

1/4

"
Straight
__
Black
00000000
00000
48"
2"
1

3/8

"

5/8

"
__
__
Vertical
Yes

1/4

"
Straight
__
Black
00000000
00000