Extended-Reach

Rolling Platform Ladders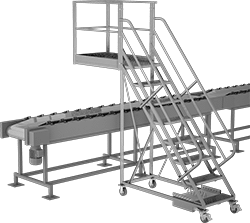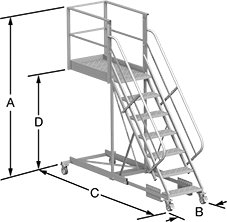 Shown with Optional Conversion Kit

With a work platform that extends beyond the base, these rolling ladders allow you to access hard-to-reach areas, such as the top of large tanks and heavy machinery. Also known as cantilever ladders, they have counterweights that mount near the first step to offset your weight on the platform. Platform and steps are perforated for slip resistance that's easy on your shoes. Use the wheel brakes to keep casters stationary. These ladders cannot be sold to California due to local safety regulations.
Note: The number of steps listed includes the platform.
Conversion kits mount to the base to support the platform above, which lets you remove the counterweights. Kits are low profile to roll under obstacles while the platform extends over the top.
Note: Ladders meet OSHA dimensional standards. Users are responsible for checking local, state, and federal codes, including OSHA, for safe operating practices.
Ht.




(A)

Wd.




(B)

Dp.




(C)

Ht.




(D)

Wd.




(E)

Dp.




(F)

Max.


Climbing


Ht.

No.


of
Steps

Cap.,




lbs.

Overhang


Dp.

Ground
Clearance


Ht.

Color
Wheel
Configuration
Assembled
or
Unassembled
Specifications
Met
Cannot
Be
Sold To
Each

Powder-Coated

Steel Ladders with Wheel Brakes

Perforated Steps and Platform

7'8"
30"
84"
4'2"
24"
40"
4'2"
5
300
40"
48"
Yellow
Two Swivel and Two Rigid Casters
Unassembled
OSHA Compliant 29 CFR 1910.29, ANSI A14.7
CA
0000000
000000000
8'6"
30"
92"
5'
24"
40"
5'
6
300
40"
58"
Yellow
Two Swivel and Two Rigid Casters
Unassembled
OSHA Compliant 29 CFR 1910.29, ANSI A14.7
CA
0000000
00000000
9'4"
30"
101"
5'10"
24"
40"
5'10"
7
300
40"
68"
Yellow
Two Swivel and Two Rigid Casters
Unassembled
OSHA Compliant 29 CFR 1910.29, ANSI A14.7
CA
0000000
00000000
10'2"
30"
109"
6'8"
24"
40"
6'8"
8
300
40"
78"
Yellow
Two Swivel and Two Rigid Casters
Unassembled
OSHA Compliant 29 CFR 1910.29, ANSI A14.7
CA
0000000
00000000
11'
30"
117"
7'6"
24"
40"
7'6"
9
300
40"
88"
Yellow
Two Swivel and Two Rigid Casters
Unassembled
OSHA Compliant 29 CFR 1910.29, ANSI A14.7
CA
0000000
00000000