Carbon Dioxide Meters

Measure and display real-time indoor ventilation quality with this meter. It operates on the included 120V AC adapter or four AA batteries (not included). Meter comes calibrated but must be recalibrated every 12 months.
Combustion Efficiency Meters
Also known as a combustion analyzer, this meter measures boiler and furnace combustion efficiency. It automatically calibrates to normal atmospheric oxygen.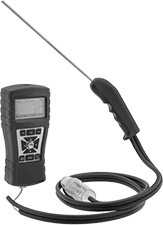 For
Use
On
Ambient


Temp.

Flue
Gas


Temp.

Flue
Gas
Oxygen
Carbon


Monoxide,


ppm
Combustion
Efficiency
Carbon
Dioxide
Air Free Carbon


Monoxide,


ppm
Excess
Air
Accuracy
Batteries
Included
Each
Kerosene, Natural Gas, Oil, Propane
25° to 110° F
-4° to 1200° F
0-20.9%
0-2,000
0.1%-100%
0-15%
0-9,999
0-250%
±0.3% of Oxygen Content
Yes
0000000
0000000