Squares with Graduations on Both Blades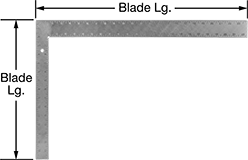 Also known as carpenters' and framing squares, these have graduations on both blades for horizontal and vertical measurements. Squares with rafter framing tables are also known as rafter squares.
Etched graduation marks are wear resistant.
Combination Squares
Replace your try square, miter square, depth gauge, marking gauge, 90° level, ruler, and scriber with one tool. Blades labeled with numeric increments that are less than 1" are quick-reading. All have wear-resistant etched markings.
Square head checks 90° angles.
Center head identifies the center on pipes, rods, and shafts.
Protractor head measures angles.
Angle finder measures any angle from 0° to 90° and has a chart to convert angle to pitch.