Warning: Products have one, but not necessarily all, of the selected characteristics.
Bristle Material

Bristle Material
Block Material

Block Material
Center Hole Diameter

Center Hole Diameter
DFARS (Defense Acquisition Regulations Supplement)

DFARS

(Defense

Acquisition

Regulations

Supplement)
RoHS (Restriction of Hazardous Substances)

RoHS

(Restriction

of
Hazardous

Substances)
Bristle Length

Bristle Length
Brushes for
Swing-Style

Floor

Buffer/Scrubbers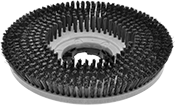 More durable than pads, these brushes are a good choice if you have an uneven floor or grout lines.
The clutch plate is universal, so it attaches to most buffer/scrubbers. These brushes are not for use with larger machines. See Brushes for Powered Floor Sweeper/Cleaners.
Nylon bristles are more flexible and longer lasting than polypropylene. Before using on carpet, break in brush by briefly running machine over a rough, dry surface. Brushes for 15" base diameter machines and larger have holes for use with solution tanks.
Also Available: Brushes with other clutch plates, for other base diameters, and in different materials. Please ask for 7258T999 and specify machine make, model, base diameter, and brush material.
For Base


Dia.

Dia.

Application
For Use On
For Surface
Type
Bristle


Lg.

Center
Hole

Dia.

Block
Material
Each

Nylon Plastic

13"
11"
Scrubbing
Carpet, Hard Surfaces
Wet, Dry
1

3/4

"
5"
Plastic
0000000
0000000
14"
12"
Scrubbing
Carpet, Hard Surfaces
Wet, Dry
1

3/4

"
5"
Plastic
0000000
000000
15"
13"
Scrubbing
Carpet, Hard Surfaces
Wet, Dry
1

3/4

"
5"
Plastic
0000000
000000
16"
14"
Scrubbing
Carpet, Hard Surfaces
Wet, Dry
1

3/4

"
5"
Plastic
0000000
000000
17"
15"
Scrubbing
Carpet, Hard Surfaces
Wet, Dry
1

3/4

"
5"
Plastic
0000000
000000
18"
16"
Scrubbing
Carpet, Hard Surfaces
Wet, Dry
1

3/4

"
5"
Plastic
0000000
000000
19"
17"
Scrubbing
Carpet, Hard Surfaces
Wet, Dry
1

3/4

"
5"
Plastic
0000000
000000
20"
18"
Scrubbing
Carpet, Hard Surfaces
Wet, Dry
1

3/4

"
5"
Plastic
000000
000000