Warning: Products have one, but not necessarily all, of the selected characteristics.
Blade Tip Shape

Blade Tip Shape
Handle Material

Handle Material
Opening Style

Opening Style
Handle Finish

Handle Finish
Blade Material

Blade Material
DFARS (Defense Acquisition Regulations Supplement)

DFARS

(Defense

Acquisition
Regulations

Supplement)
Scissors for Rubber and Thick Fabric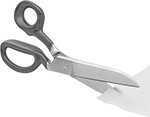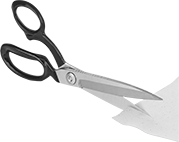 The handles are offset to keep your hand clear of the material as you cut on flat surfaces. These scissors are plated for durability.
Overall


Lg.

Cut


Lg.

Blade Material
Handle Material
Handle
Type
Opening
Style
Blade Tip
Shape
Blade Edge
Each

For Use On

Carpet,

Fabric,

Rubber

10

3/8

"
4

3/4

"
Nickel-Plated Steel
Painted Steel
Offset
Manual
Pointed
Straight/Straight
000000
000000
11

1/2

"
4

1/2

"
Chrome-Plated Steel
Plastic Coated Steel
Offset
Manual
Pointed
Straight/Straight
0000000
00000
12

1/2

"
6"
Chrome-Plated Steel
Steel
Offset
Manual
Pointed
Straight/Straight
0000000
00000
12

1/2

"
6

1/8

"
Nickel-Plated Steel
Painted Steel
Offset
Manual
Pointed
Straight/Straight
000000
00000
10

3/8

"
4

3/4

"
Nickel-Plated Steel
Painted Steel
Offset
Manual
Pointed
Straight/Straight
0000000
00000