Easy-to-Machine

MIC6 Cast Aluminum Sheets and Bars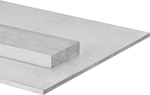 Yield

Strength:

15,

000 psi

Hardness:

Brinell 65

(Soft)

Temper:

Not Rated

Fabrication:

Cast
MIC6 is cast from a high-strength 7000-series aluminum, then stress relieved to maintain dimensional stability during high-speed machining. Use these sheets and bars for CNC routing tables, assembly jigs, vacuum chucks, and other applications where consistent flatness and tight tolerances are critical.
For technical drawings and 3-D models, click on a part number.

Certificates with a traceable lot number are available for these products. Download certificates from ORDER HISTORY after your order ships.
Thick.

Thick.

Tolerance
Heat Treatment
Flatness
Tolerance
Each

1/4

"
-0.005" to 0.005"
Stress Relieved
0.015"
000000000
000000

5/16

"
-0.005" to 0.005"
Stress Relieved
0.015"
000000000
00000

3/8

"
-0.005" to 0.005"
Stress Relieved
0.015"
000000000
00000

7/16

"
-0.005" to 0.005"
Stress Relieved
0.015"
000000000
00000

1/2

"
-0.005" to 0.005"
Stress Relieved
0.015"
000000000
00000

5/8

"
-0.005" to 0.005"
Stress Relieved
0.015"
000000000
00000

3/4

"
-0.005" to 0.005"
Stress Relieved
0.005"
000000000
00000

7/8

"
-0.005" to 0.005"
Stress Relieved
0.005"
000000000
00000
1"
-0.005" to 0.005"
Stress Relieved
0.005"
00000000
00000
1

1/4

"
-0.005" to 0.005"
Stress Relieved
0.005"
00000000
00000
1

1/2

"
-0.005" to 0.005"
Stress Relieved
0.005"
00000000
00000
1

3/4

"
-0.005" to 0.005"
Stress Relieved
0.005"
000000000
00000
2"
-0.005" to 0.005"
Stress Relieved
0.005"
00000000
000000
2

1/4

"
-0.005" to 0.005"
Stress Relieved
0.005"
00000000
000000
2

1/2

"
-0.005" to 0.005"
Stress Relieved
0.005"
00000000
000000
3"
-0.005" to 0.005"
Stress Relieved
0.005"
00000000
000000
3

1/2

"
-0.005" to 0.005"
Stress Relieved
0.005"
000000000
000000
4"
-0.005" to 0.005"
Stress Relieved
0.005"
000000000
000000

1/4

"
-0.005" to 0.005"
Stress Relieved
0.015"
000000000
00000

5/16

"
-0.005" to 0.005"
Stress Relieved
0.015"
000000000
00000

3/8

"
-0.005" to 0.005"
Stress Relieved
0.015"
000000000
00000

7/16

"
-0.005" to 0.005"
Stress Relieved
0.015"
000000000
00000

1/2

"
-0.005" to 0.005"
Stress Relieved
0.015"
000000000
00000

5/8

"
-0.005" to 0.005"
Stress Relieved
0.015"
000000000
00000

3/4

"
-0.005" to 0.005"
Stress Relieved
0.005"
000000000
00000

7/8

"
-0.005" to 0.005"
Stress Relieved
0.005"
000000000
00000
1"
-0.005" to 0.005"
Stress Relieved
0.005"
000000000
000000
1

1/4

"
-0.005" to 0.005"
Stress Relieved
0.005"
000000000
000000
1

1/2

"
-0.005" to 0.005"
Stress Relieved
0.005"
000000000
000000
1

3/4

"
-0.005" to 0.005"
Stress Relieved
0.005"
000000000
000000
2"
-0.005" to 0.005"
Stress Relieved
0.005"
000000000
000000
2

1/4

"
-0.005" to 0.005"
Stress Relieved
0.005"
000000000
000000
2

1/2

"
-0.005" to 0.005"
Stress Relieved
0.005"
000000000
000000
3"
-0.005" to 0.005"
Stress Relieved
0.005"
000000000
000000
3

1/2

"
-0.005" to 0.005"
Stress Relieved
0.005"
000000000
000000
4"
-0.005" to 0.005"
Stress Relieved
0.005"
000000000
000000

1/4

"
-0.005" to 0.005"
Stress Relieved
0.015"
000000000
00000

5/16

"
-0.005" to 0.005"
Stress Relieved
0.015"
000000000
00000

3/8

"
-0.005" to 0.005"
Stress Relieved
0.015"
000000000
00000

7/16

"
-0.005" to 0.005"
Stress Relieved
0.015"
000000000
000000

1/2

"
-0.005" to 0.005"
Stress Relieved
0.015"
000000000
000000

5/8

"
-0.005" to 0.005"
Stress Relieved
0.015"
000000000
000000

3/4

"
-0.005" to 0.005"
Stress Relieved
0.005"
000000000
000000

7/8

"
-0.005" to 0.005"
Stress Relieved
0.005"
000000000
000000
1"
-0.005" to 0.005"
Stress Relieved
0.005"
000000000
000000
1

1/4

"
-0.005" to 0.005"
Stress Relieved
0.005"
000000000
000000
1

1/2

"
-0.005" to 0.005"
Stress Relieved
0.005"
000000000
000000
1

3/4

"
-0.005" to 0.005"
Stress Relieved
0.005"
000000000
000000
2"
-0.005" to 0.005"
Stress Relieved
0.005"
000000000
000000
2

1/4

"
-0.005" to 0.005"
Stress Relieved
0.005"
000000000
000000
2

1/2

"
-0.005" to 0.005"
Stress Relieved
0.005"
000000000
000000
3"
-0.005" to 0.005"
Stress Relieved
0.005"
000000000
000000
3

1/2

"
-0.005" to 0.005"
Stress Relieved
0.005"
000000000
000000
4"
-0.005" to 0.005"
Stress Relieved
0.005"
000000000
000000

1/4

"
-0.005" to 0.005"
Stress Relieved
0.015"
000000000
00000

5/16

"
-0.005" to 0.005"
Stress Relieved
0.015"
000000000
00000

3/8

"
-0.005" to 0.005"
Stress Relieved
0.015"
000000000
00000

7/16

"
-0.005" to 0.005"
Stress Relieved
0.015"
000000000
00000

1/2

"
-0.005" to 0.005"
Stress Relieved
0.015"
000000000
00000

5/8

"
-0.005" to 0.005"
Stress Relieved
0.015"
000000000
00000

3/4

"
-0.005" to 0.005"
Stress Relieved
0.005"
000000000
00000

7/8

"
-0.005" to 0.005"
Stress Relieved
0.005"
000000000
00000
1"
-0.005" to 0.005"
Stress Relieved
0.005"
000000000
00000
1

1/4

"
-0.005" to 0.005"
Stress Relieved
0.005"
000000000
000000
1

1/2

"
-0.005" to 0.005"
Stress Relieved
0.005"
000000000
000000
1

3/4

"
-0.005" to 0.005"
Stress Relieved
0.005"
000000000
000000
2"
-0.005" to 0.005"
Stress Relieved
0.005"
000000000
000000
2

1/4

"
-0.005" to 0.005"
Stress Relieved
0.005"
000000000
000000
2

1/2

"
-0.005" to 0.005"
Stress Relieved
0.005"
000000000
000000
3"
-0.005" to 0.005"
Stress Relieved
0.005"
000000000
000000
3

1/2

"
-0.005" to 0.005"
Stress Relieved
0.005"
000000000
000000
4"
-0.005" to 0.005"
Stress Relieved
0.005"
000000000
000000

1/4

"
-0.005" to 0.005"
Stress Relieved
0.015"
00000000
00000

5/16

"
-0.005" to 0.005"
Stress Relieved
0.015"
000000000
00000

3/8

"
-0.005" to 0.005"
Stress Relieved
0.015"
00000000
00000

7/16

"
-0.005" to 0.005"
Stress Relieved
0.015"
000000000
000000

1/2

"
-0.005" to 0.005"
Stress Relieved
0.015"
00000000
00000

5/8

"
-0.005" to 0.005"
Stress Relieved
0.015"
00000000
000000

3/4

"
-0.005" to 0.005"
Stress Relieved
0.005"
00000000
000000

7/8

"
-0.005" to 0.005"
Stress Relieved
0.005"
00000000
000000
1"
-0.005" to 0.005"
Stress Relieved
0.005"
00000000
000000
1

1/4

"
-0.005" to 0.005"
Stress Relieved
0.005"
00000000
000000
1

1/2

"
-0.005" to 0.005"
Stress Relieved
0.005"
00000000
000000
1

3/4

"
-0.005" to 0.005"
Stress Relieved
0.005"
000000000
000000
2"
-0.005" to 0.005"
Stress Relieved
0.005"
00000000
000000
2

1/4

"
-0.005" to 0.005"
Stress Relieved
0.005"
00000000
000000
2

1/2

"
-0.005" to 0.005"
Stress Relieved
0.005"
00000000
000000
3"
-0.005" to 0.005"
Stress Relieved
0.005"
000000000
000000
3

1/2

"
-0.005" to 0.005"
Stress Relieved
0.005"
000000000
000000
4"
-0.005" to 0.005"
Stress Relieved
0.005"
000000000
000000

1/4

"
-0.005" to 0.005"
Stress Relieved
0.015"
000000000
000000

5/16

"
-0.005" to 0.005"
Stress Relieved
0.015"
000000000
000000

3/8

"
-0.005" to 0.005"
Stress Relieved
0.015"
000000000
000000

7/16

"
-0.005" to 0.005"
Stress Relieved
0.015"
000000000
000000

1/2

"
-0.005" to 0.005"
Stress Relieved
0.015"
000000000
000000

5/8

"
-0.005" to 0.005"
Stress Relieved
0.015"
000000000
000000

3/4

"
-0.005" to 0.005"
Stress Relieved
0.005"
000000000
000000

7/8

"
-0.005" to 0.005"
Stress Relieved
0.005"
000000000
000000
1"
-0.005" to 0.005"
Stress Relieved
0.005"
000000000
000000
1

1/4

"
-0.005" to 0.005"
Stress Relieved
0.005"
000000000
000000
1

1/2

"
-0.005" to 0.005"
Stress Relieved
0.005"
000000000
000000
1

3/4

"
-0.005" to 0.005"
Stress Relieved
0.005"
000000000
000000
2"
-0.005" to 0.005"
Stress Relieved
0.005"
000000000
000000
2

1/4

"
-0.005" to 0.005"
Stress Relieved
0.005"
000000000
000000
2

1/2

"
-0.005" to 0.005"
Stress Relieved
0.005"
000000000
000000
3"
-0.005" to 0.005"
Stress Relieved
0.005"
000000000
000000
3

1/2

"
-0.005" to 0.005"
Stress Relieved
0.005"
000000000
00000000
4"
-0.005" to 0.005"
Stress Relieved
0.005"
000000000
00000000

1/4

"
-0.005" to 0.005"
Stress Relieved
0.015"
000000000
000000

5/16

"
-0.005" to 0.005"
Stress Relieved
0.015"
000000000
000000

3/8

"
-0.005" to 0.005"
Stress Relieved
0.015"
000000000
000000

7/16

"
-0.005" to 0.005"
Stress Relieved
0.015"
000000000
000000

1/2

"
-0.005" to 0.005"
Stress Relieved
0.015"
000000000
000000

5/8

"
-0.005" to 0.005"
Stress Relieved
0.015"
000000000
000000

3/4

"
-0.005" to 0.005"
Stress Relieved
0.005"
000000000
000000

7/8

"
-0.005" to 0.005"
Stress Relieved
0.005"
000000000
000000
1"
-0.005" to 0.005"
Stress Relieved
0.005"
000000000
000000
1

1/4

"
-0.005" to 0.005"
Stress Relieved
0.005"
000000000
000000
1

1/2

"
-0.005" to 0.005"
Stress Relieved
0.005"
000000000
00000000
1

3/4

"
-0.005" to 0.005"
Stress Relieved
0.005"
000000000
00000000
2"
-0.005" to 0.005"
Stress Relieved
0.005"
000000000
00000000
2

1/4

"
-0.005" to 0.005"
Stress Relieved
0.005"
000000000
00000000
2

1/2

"
-0.005" to 0.005"
Stress Relieved
0.005"
000000000
00000000
3"
-0.005" to 0.005"
Stress Relieved
0.005"
000000000
00000000
3

1/2

"
-0.005" to 0.005"
Stress Relieved
0.005"
000000000
00000000
4"
-0.005" to 0.005"
Stress Relieved
0.005"
000000000
00000000

1/4

"
-0.005" to 0.005"
Stress Relieved
0.015"
000000000
000000

5/16

"
-0.005" to 0.005"
Stress Relieved
0.015"
000000000
000000

3/8

"
-0.005" to 0.005"
Stress Relieved
0.015"
000000000
000000

7/16

"
-0.005" to 0.005"
Stress Relieved
0.015"
000000000
000000

1/2

"
-0.005" to 0.005"
Stress Relieved
0.015"
000000000
000000

5/8

"
-0.005" to 0.005"
Stress Relieved
0.015"
000000000
000000

3/4

"
-0.005" to 0.005"
Stress Relieved
0.005"
000000000
000000

7/8

"
-0.005" to 0.005"
Stress Relieved
0.005"
000000000
000000
1"
-0.005" to 0.005"
Stress Relieved
0.005"
000000000
000000
1

1/4

"
-0.005" to 0.005"
Stress Relieved
0.005"
000000000
000000
1

1/2

"
-0.005" to 0.005"
Stress Relieved
0.005"
000000000
000000
1

3/4

"
-0.005" to 0.005"
Stress Relieved
0.005"
000000000
000000
2"
-0.005" to 0.005"
Stress Relieved
0.005"
000000000
000000
2

1/4

"
-0.005" to 0.005"
Stress Relieved
0.005"
000000000
000000
2

1/2

"
-0.005" to 0.005"
Stress Relieved
0.005"
000000000
000000
3"
-0.005" to 0.005"
Stress Relieved
0.005"
000000000
00000000
3

1/2

"
-0.005" to 0.005"
Stress Relieved
0.005"
000000000
00000000
4"
-0.005" to 0.005"
Stress Relieved
0.005"
000000000
00000000

1/4

"
-0.005" to 0.005"
Stress Relieved
0.015"
00000000
000000

5/16

"
-0.005" to 0.005"
Stress Relieved
0.015"
000000000
000000

3/8

"
-0.005" to 0.005"
Stress Relieved
0.015"
00000000
000000

7/16

"
-0.005" to 0.005"
Stress Relieved
0.015"
000000000
000000

1/2

"
-0.005" to 0.005"
Stress Relieved
0.015"
00000000
000000

5/8

"
-0.005" to 0.005"
Stress Relieved
0.015"
00000000
000000

3/4

"
-0.005" to 0.005"
Stress Relieved
0.005"
00000000
000000

7/8

"
-0.005" to 0.005"
Stress Relieved
0.005"
00000000
000000
1"
-0.005" to 0.005"
Stress Relieved
0.005"
00000000
000000
1

1/4

"
-0.005" to 0.005"
Stress Relieved
0.005"
00000000
000000
1

1/2

"
-0.005" to 0.005"
Stress Relieved
0.005"
00000000
00000000
1

3/4

"
-0.005" to 0.005"
Stress Relieved
0.005"
000000000
00000000
2"
-0.005" to 0.005"
Stress Relieved
0.005"
00000000
00000000
2

1/4

"
-0.005" to 0.005"
Stress Relieved
0.005"
00000000
00000000
2

1/2

"
-0.005" to 0.005"
Stress Relieved
0.005"
00000000
00000000
3"
-0.005" to 0.005"
Stress Relieved
0.005"
000000000
00000000
3

1/2

"
-0.005" to 0.005"
Stress Relieved
0.005"
000000000
00000000
4"
-0.005" to 0.005"
Stress Relieved
0.005"
000000000
00000000

1/4

"
-0.005" to 0.005"
Stress Relieved
0.015"
00000000
000000

5/16

"
-0.005" to 0.005"
Stress Relieved
0.015"
000000000
000000

3/8

"
-0.005" to 0.005"
Stress Relieved
0.015"
00000000
000000

7/16

"
-0.005" to 0.005"
Stress Relieved
0.015"
000000000
00000000

1/2

"
-0.005" to 0.005"
Stress Relieved
0.015"
00000000
000000

5/8

"
-0.005" to 0.005"
Stress Relieved
0.015"
00000000
00000000

3/4

"
-0.005" to 0.005"
Stress Relieved
0.005"
00000000
00000000

7/8

"
-0.005" to 0.005"
Stress Relieved
0.005"
00000000
00000000
1"
-0.005" to 0.005"
Stress Relieved
0.005"
00000000
00000000
1

1/4

"
-0.005" to 0.005"
Stress Relieved
0.005"
00000000
00000000
1

1/2

"
-0.005" to 0.005"
Stress Relieved
0.005"
00000000
00000000
1

3/4

"
-0.005" to 0.005"
Stress Relieved
0.005"
000000000
00000000
2"
-0.005" to 0.005"
Stress Relieved
0.005"
00000000
00000000
2

1/4

"
-0.005" to 0.005"
Stress Relieved
0.005"
00000000
00000000
2

1/2

"
-0.005" to 0.005"
Stress Relieved
0.005"
00000000
00000000
Thick.,


mm

Thick.




Tolerance,

mm
Heat Treatment
Flatness
Tolerance
Each
6
-0.127 to 0.127
Stress Relieved
0.015"
0000000
000000
10
-0.127 to 0.127
Stress Relieved
0.015"
0000000
00000
15
-0.127 to 0.127
Stress Relieved
0.015"
0000000
00000
20
-0.127 to 0.127
Stress Relieved
0.005"
0000000
00000
25
-0.127 to 0.127
Stress Relieved
0.005"
0000000
00000
30
-0.127 to 0.127
Stress Relieved
0.005"
0000000
00000
6
-0.127 to 0.127
Stress Relieved
0.015"
0000000
00000
10
-0.127 to 0.127
Stress Relieved
0.015"
0000000
00000
15
-0.127 to 0.127
Stress Relieved
0.015"
0000000
00000
20
-0.127 to 0.127
Stress Relieved
0.005"
0000000
000000
25
-0.127 to 0.127
Stress Relieved
0.005"
0000000
000000
30
-0.127 to 0.127
Stress Relieved
0.005"
0000000
000000
6
-0.127 to 0.127
Stress Relieved
0.015"
0000000
00000
10
-0.127 to 0.127
Stress Relieved
0.015"
0000000
000000
15
-0.127 to 0.127
Stress Relieved
0.015"
0000000
000000
20
-0.127 to 0.127
Stress Relieved
0.005"
0000000
000000
25
-0.127 to 0.127
Stress Relieved
0.005"
0000000
000000
30
-0.127 to 0.127
Stress Relieved
0.005"
0000000
000000
6
-0.127 to 0.127
Stress Relieved
0.015"
0000000
00000
10
-0.127 to 0.127
Stress Relieved
0.015"
0000000
000000
15
-0.127 to 0.127
Stress Relieved
0.015"
0000000
000000
20
-0.127 to 0.127
Stress Relieved
0.005"
0000000
000000
25
-0.127 to 0.127
Stress Relieved
0.005"
0000000
000000
30
-0.127 to 0.127
Stress Relieved
0.005"
0000000
000000
6
-0.127 to 0.127
Stress Relieved
0.015"
0000000
000000
10
-0.127 to 0.127
Stress Relieved
0.015"
0000000
000000
15
-0.127 to 0.127
Stress Relieved
0.015"
0000000
000000
20
-0.127 to 0.127
Stress Relieved
0.005"
0000000
000000
25
-0.127 to 0.127
Stress Relieved
0.005"
0000000
000000
30
-0.127 to 0.127
Stress Relieved
0.005"
0000000
000000
6
-0.127 to 0.127
Stress Relieved
0.015"
0000000
000000
10
-0.127 to 0.127
Stress Relieved
0.015"
0000000
000000
15
-0.127 to 0.127
Stress Relieved
0.015"
0000000
000000
20
-0.127 to 0.127
Stress Relieved
0.005"
0000000
000000
25
-0.127 to 0.127
Stress Relieved
0.005"
0000000
000000
30
-0.127 to 0.127
Stress Relieved
0.005"
0000000
000000
Wd.

Heat Treatment
Flatness
Tolerance

2 ft.

Lg.

4 ft.

Lg.

6 ft.

Lg.

1/4"

Thick.

(-0.005" to 0.005" Tolerance)

1"
Stress Relieved
0.015"
0000000
1

1/2

"
Stress Relieved
0.015"
0000000
2"
Stress Relieved
0.015"
0000000
2

1/2

"
Stress Relieved
0.015"
0000000
3"
Stress Relieved
0.015"
0000000
4"
Stress Relieved
0.015"
0000000

3/8"

Thick.

(-0.005" to 0.005" Tolerance)

3/4

"
Stress Relieved
0.015"
0000000
1"
Stress Relieved
0.015"
0000000
1

1/2

"
Stress Relieved
0.015"
0000000
2"
Stress Relieved
0.015"
0000000
2

1/2

"
Stress Relieved
0.015"
0000000
3"
Stress Relieved
0.015"
0000000
4"
Stress Relieved
0.015"
0000000

1/2"

Thick.

(-0.005" to 0.005" Tolerance)

1"
Stress Relieved
0.015"
0000000
1

1/2

"
Stress Relieved
0.015"
0000000
2"
Stress Relieved
0.015"
0000000
2

1/2

"
Stress Relieved
0.015"
0000000
3"
Stress Relieved
0.015"
0000000
4"
Stress Relieved
0.015"
0000000

5/8"

Thick.

(-0.005" to 0.005" Tolerance)

1

1/2

"
Stress Relieved
0.015"
0000000
2"
Stress Relieved
0.015"
0000000
2

1/2

"
Stress Relieved
0.015"
0000000
3"
Stress Relieved
0.015"
0000000
4"
Stress Relieved
0.015"
0000000

3/4"

Thick.

(-0.005" to 0.005" Tolerance)

1

1/2

"
Stress Relieved
0.005"
0000000
2"
Stress Relieved
0.005"
0000000
2

1/2

"
Stress Relieved
0.005"
0000000
3"
Stress Relieved
0.005"
0000000
4"
Stress Relieved
0.005"
0000000

1"

Thick.

(-0.005" to 0.005" Tolerance)

2"
Stress Relieved
0.005"
0000000
2

1/2

"
Stress Relieved
0.005"
0000000
3"
Stress Relieved
0.005"
0000000
3

1/2

"
Stress Relieved
0.005"
0000000
4"
Stress Relieved
0.005"
0000000

1 1/2"

Thick.

(-0.005" to 0.005" Tolerance)

1

1/2

"
Stress Relieved
0.005"
0000000
2"
Stress Relieved
0.005"
0000000
3"
Stress Relieved
0.005"
0000000
4"
Stress Relieved
0.005"
0000000

2"

Thick.

(-0.005" to 0.005" Tolerance)

2"
Stress Relieved
0.005"
0000000
3"
Stress Relieved
0.005"
0000000
4"
Stress Relieved
0.005"
0000000