Friction-Grip

Stem Casters for InterMetro Shelving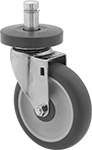 Swivel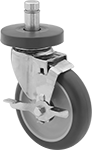 Swivel with Brake
Easily replace casters on InterMetro carts and shelving—friction holds them in place in the 1" OD posts. They cannot be used to convert stationary units to mobile units. The wheels are shock absorbing, and provide good traction on rough surfaces.
Tread-on-core wheels have a core that is harder than the tread, balancing strength with cushioning.
Sleeve wheel bearings prevent wear to the wheel bore but don't roll as easily as other bearings. Ball bearings are the easiest to roll and provide easy swiveling.
Shielded bearings protect the bearing from dust and debris.
Casters with wheel brake apply pressure to the wheel to stop movement with a press of the foot pedal.
304 stainless steel frames are corrosion resistant.
For
Manufacturer
Series

Dia.

Wd.

Mount


Ht.

Cap.

per


Caster,




lbs.

Hardness

Dia.

Lg.

For
Tube
Gauge
Type
Seal
Type
Frame
Material
Each

Swivel

Metro Cart
5"
1

1/4

"
6

1/8

"
200
Durometer 70A

7/8

"
2

3/16

"
16 ga.
Sleeve
Open
Zinc-Plated Steel
0000000
000000

Nonmarking Gray Tread on Core

Wheels—

Soft

Metro Cart
4"
1"
4

3/4

"
135
Durometer 85A

7/8

"
2

3/16

"
16 ga.
Sleeve
Open
Zinc-Plated Steel
0000000
00000

Nonmarking Gray Tread on Core

Wheels—

Firm

Metro Cart
5"
1

1/4

"
6

1/8

"
300
Durometer 90A

7/8

"
2

3/16

"
16 ga.
Ball
Sealed
304 Stainless Steel
0000000
000000
Pair
Metro Cart, Metro Shelving
5"
1

1/4

"
6

1/8

"
300
Durometer 90A

7/8

"
2

3/16

"
16 ga.
Ball
Shielded
Nickel-Plated Steel
0000000
000000

Swivel with Brake

Nonmarking Gray Tread on Core

Wheels—

Firm

Metro Shelving
5"
1

1/4

"
6

1/8

"
300
Durometer 90A

7/8

"
2

3/16

"
16 ga.
Ball
Shielded
Nickel-Plated Steel
0000000
000000