Transmit data between computers and other devices that have different USB sizes or styles. All USB adapters are backward compatible, so they work with cords and connectors that meet the same or a lower USB standard.

For Cable Industry
Designation
USB
Standard
Housing
Material
Color
Cord


Lg.,

ft.

Each
Category 5E, Category 6
3.2 Gen 1
Plastic
Silver
1
0000000
000000
Micro M12
Screw-Together

Ethernet Connectors
Unlike traditional RJ45 connectors found in data centers, these connectors stand up to rugged industrial environments since they tightly thread to devices with M12 connections, sealing out contaminants and resisting shaking loose from vibration. Use them to transfer high-speed data between sensors, switches, computers, IO modules, programmable logic controllers (PLCs), and other equipment. They can also power devices as they send data, so you don't need a separate power cord. But, the device must be Power over Ethernet (PoE) compatible. These connectors are often used with EtherNet/IP, Profinet, and EtherCAT systems. Since they're shielded, they block signal interference from nearby devices, maintaining their speed and data integrity. Poles and keyways on the face adhere to standard coding layouts to reduce the chance you'll mismatch connections.
When choosing an Ethernet connector, make sure you match or exceed your network's category industry designation. These connectors are backward compatible—for example, a Category 6 connector will work in a Category 5 network, but it'll only run at the Category 5 speed.
A-coded and X-coded connectors send data faster than D-coded connectors, so they're best for robotics and other systems that run multi-step programs.
Adapters create a transition point between an M12 and RJ45 connection. Use them in panels or walls—your tough threaded connection on one side and your control panel and computer or PLC on the other.
90° elbow connectors run your cord along the side of equipment, so they fit behind machines and in tight spaces.
Connectors with a screw-on wire connection, also known as field wireable connectors, do not require special tools like crimpers or soldering irons to attach to cables. Connectors with a snap-on wire connection pierce the wire's insulation, which means you don't need to strip it.
Connectors with polyurethane or TPE insulation resist chemicals, oil, and sunlight for outdoor use. Because they're flexible, they're good for jobs with continuous motion, such as robotics.
IP rated connectors keep out dust and can be used in wet areas when mated or capped. IP67 connectors can be submerged temporarily.
Add caps to protect connectors and maintain their IP ratings when not in use.
ix Industrial

Ethernet Switches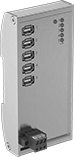 DIN-Rail
Mount with 5 ix Sockets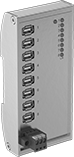 DIN-Rail
Mount with 8 ix Sockets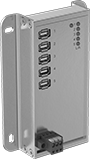 Surface Mount with 5 ix Sockets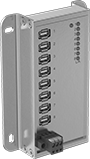 Surface Mount with 8 ix Sockets
Link industrial equipment with multiple computers to expand your data network. Use these switches with ix industrial connectors and cords.
For technical drawings and 3-D models, click on a part number.
Total


No.

of
Sockets
Transmission


Speed,




Gb/s

Ht.

Wd.

Dp.

Housing
Material
Voltage
Fasteners
Included


(Hole Dia.)

Temp.




Range,




°F

Wire
Connection
Type
Number
of
Terminals
Coding
For Cable
Industry
Designation
Specifications
Met
Each
5
1
4

15/32

"
2

1/16

"
1"
Aluminum
24V DC-48V DC
__
-40° to 155°
Screw Terminals
3
A
Category 6A
IEC 61076-3-124
0000000
0000000
8
1
4

15/32

"
2

1/16

"
1"
Aluminum
24V DC-48V DC
__
-40° to 155°
Screw Terminals
3
A
Category 6A
IEC 61076-3-124
0000000
000000

Surface Mount

5
1
4

7/16

"
3

5/32

"

15/16

"
Aluminum
24V DC-48V DC
No (0.157")
-40° to 155°
Screw Terminals
3
A
Category 6A
IEC 61076-3-124
0000000
000000
8
1
4

7/16

"
3

5/32

"

15/16

"
Aluminum
24V DC-48V DC
No (0.157")
-40° to 155°
Screw Terminals
3
A
Category 6A
IEC 61076-3-124
0000000
000000