Clear Cellulose Film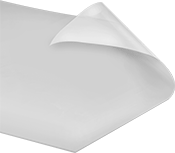 Color:

Clear
Temperature

Range:

0° to 225° F

Tensile

Strength:

3,390-5,

520 psi

(Poor)

Impact

Strength:

4.

3

ft.

-

lbs./in.

(Good)

Hardness:

Rockwell R70

(Hard)

For Use

Outdoors:

No
Also called acetate, this is the same clear film that's used in window envelopes. Choose cellulose when you need a low-cost plastic with good clarity.
Clear Plastic Selector Packs

Pack includes one piece each of acrylic, cast acrylic, cellulose, PETG, and polycarbonate.
For technical drawings and 3-D models, click on a part number.
Material

Wd.

Lg.

Pkg.




Qty.

Pkg.

Acrylic Plastic, Cellulose Plastic, PETG Plastic, Polycarbonate Plastic
2"
2"
5
000000
000000
Filter Paper Discs

Disc

Pleated Disc
Often used in laboratory testing, these discs are designed to capture tiny particles from fluids.
Pleated discs have a large surface area, which retains more particles than flat discs.
Cellulose discs are good for general purpose filtering, where exceptional strength or chemical resistance is not needed.
Dia.

Removes Particle Size
Down

To,

microns

Thick.

Max.




Temp.,

°F

Color

Pkg.




Qty.

Pkg.

Disc

Cellulose Plastic

1

7/8

"
8
0.007"
265°
White
100
0000000
000000
2

3/16

"
11
0.007"
265°
White
100
0000000
00000
2

3/16

"
25
0.008"
265°
White
100
0000000
00000
4

15/16

"
2
0.006"
265°
White
100
0000000
00000

Pleated Disc

Cellulose Plastic

4

15/16

"
2
0.006"
265°
White
100
0000000
00000
12

5/8

"
35
0.01"
265°
White
100
0000000
000000