Coolant-Resistant

Surface Fillers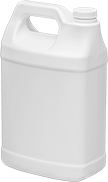 Repair small leaks and cracks in coolant systems for commercial vehicles and industrial equipment. These surface fillers meet ASTM D3147 for their ability to stop leaks in engine cooling systems. Pour them into your coolant to fix both internal and external leaks. They contain ceramic microfibers and copper particles to create a permanent seal. They're compatible with antifreeze and other coolant system additives.
Size,




fl.

oz.

Type
Begins to


Harden,

min.

Reaches Full


Strength,

min.

Consistency

Temp.

Range,

°F

Color
For Use On
Each
16
Jug
7
10
Thick Liquid
Not Rated to 500°
Brown
Aluminum, Brass, Bronze, Copper, Silver, Steel, Stainless Steel, Galvanized Steel, Galvanized Iron, Titanium, Acrylic Plastic, Polystyrene Plastic, Polycarbonate Plastic, ABS Plastic, PVC Plastic, CPVC Plastic, PETG Plastic, PVDF Plastic, Polyimide Plastic, Nylon Plastic, PTFE Plastic, Polyethylene Plastic, Polypropylene Plastic
0000000
000000
Fuel-Resistant

Surface Fillers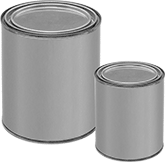 Also known as sloshing compounds, these two-part epoxies bond to rough and rusty surfaces in fuel tanks to repair leaks and prevent further corrosion. They withstand permanent immersion in fuel, oil, and harsh solvents. Use them with metal, plastic, and fiberglass tanks. Mix the smaller can with the bigger one and pour into your fuel tank. Rotate the tank to coat the interior and dump out any excess. Allow to cure overnight. Size listed is the combined total of the two parts.
1.5-pint container can treat a 10-gallon fuel tank. 3-pint container can treat a 20-gallon fuel tank.
Size,




pt.

Type
Begins to


Harden,




min.

Reaches Full


Strength,




hrs.

Consistency
Mix
Ratio
For
Use
Outdoors

Temp.




Range,




°F

Color
Finishing
Method
For
Use
On
Each
1.5
Can
5
24
Thick Liquid
2:1
No
70° to 90°
Amber
Drill, Sand, Tap
Aluminum, Brass, Bronze, Copper, Silver, Steel, Stainless Steel, Cast Iron, Galvanized Iron, Galvanized Steel, Titanium, Acrylic Plastic, Polycarbonate Plastic, ABS Plastic, PVC Plastic, CPVC Plastic, PETG Plastic, PVDF Plastic, Polyimide Plastic, Nylon Plastic, Polyethylene Plastic, Polypropylene Plastic, Vinyl Plastic, Fiberglass, Ceramic, Porcelain
0000000
000000
3
Can
5
24
Thick Liquid
2:1
No
70° to 90°
Amber
Drill, Sand, Tap
Aluminum, Brass, Bronze, Copper, Silver, Steel, Stainless Steel, Cast Iron, Galvanized Iron, Galvanized Steel, Titanium, Acrylic Plastic, Polycarbonate Plastic, ABS Plastic, PVC Plastic, CPVC Plastic, PETG Plastic, PVDF Plastic, Polyimide Plastic, Nylon Plastic, Polyethylene Plastic, Polypropylene Plastic, Vinyl Plastic, Fiberglass, Ceramic, Porcelain
0000000
00000