Vacuum Attachments and Extension Wands
Add brushes, crevice tools, blower nozzles, extension wands, and other attachments to your vacuum hose.
Plastic attachments are lightweight.
Aluminum attachments are lightweight, yet stronger than plastic.
Steel attachments are more durable than plastic and aluminum.
Extension wands (sold separately) clean hard-to-reach areas. For compatible extension wands, match the For Wand Style number to the Wand Style number in Extension Wands. Attachments without a For Wand Style number are compatible with hose only.
Wands with a twist-on end are threaded and screw onto an attachment. They allow the attachment to swivel.
Wand with a snap-on end has a groove to snap on an attachment and allow it to swivel.
Wands with a slide-on end slide onto an attachment for a tight friction fit.

A

B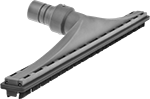 C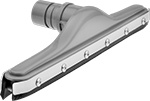 D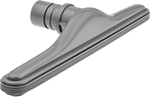 E

F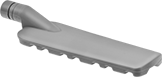 G

H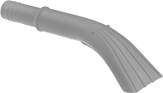 J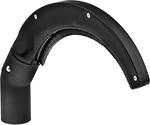 K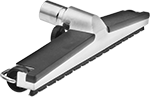 L

M
Style
Component

Lg.

Wd.

Dp.

Dia.

For

Max.


Pipe


Dia.

For
Wand
Style
Includes
Each

Plastic Attachments for

1 1/4"

Dia.

Hose

A
Crevice Tool
12"
__
__
__
__
__
__
00000000
000000

Plastic Attachments for

1 1/2"

Dia.

Hose

A
Crevice Tool
11"
__
__
__
__
__
__
00000000
0000
A
Crevice Tool
17"
__
__
__
__
__
__
00000000
00000
B
Floor Brush
__
14"
2

1/4

"
__
__
1
__
00000000
00000
C
Floor Brush
__
20"
1

3/4

"
__
__
1
__
00000000
00000
D
Squeegee
__
14"
1

1/2

"
__
__
1
__
00000000
00000
D
Squeegee
__
20"
1

1/2

"
__
__
1
__
00000000
000000
E
Carpet Nozzle
__
14"
1

3/4

"
__
__
1
__
00000000
00000
F
Round Brush
__
__
__
2

3/4

"
__
1
__
00000000
00000
G
Paddle
__
4

1/2

"
14"
__
__
1
__
00000000
00000
H
Upholstery Brush
__
5"

3/4

"
__
__
1
__
00000000
00000
J
Utility Claw
__
4

1/2

"

9/16

"
__
__
__
__
00000000
0000
K
Pipe Nozzle
__
__
__
__
4"
3
__
00000000
00000
K
Pipe Nozzle
__
__
__
__
8"
3
__
00000000
00000

Aluminum Attachments for

1 1/2"

Dia.

Hose

A
Crevice Tool
11"
__
__
__
__
__
__
00000000
00000
A
Crevice Tool
24"
__
__
__
__
__
__
00000000
00000
B
Floor Brush
__
14"
2"
__
__
1
__
00000000
00000
D
Squeegee
__
14"
2

1/4

"
__
__
1
__
00000000
00000
E
Carpet Nozzle
__
14"
2

1/4

"
__
__
1
__
00000000
00000
F
Round Brush
__
__
__
3"
__
1
__
00000000
00000
F
Round Brush
__
__
__
4

1/8

"
__
1
__
00000000
00000
H
Upholstery Brush
__
6

3/4

"
1

1/4

"
__
__
1
__
00000000
00000
J
Utility Claw
__
6"
1

1/2

"
__
__
__
__
00000000
00000
K
Pipe Nozzle
__
__
__
__
3"
1
__
00000000
000000
K
Pipe Nozzle
__
__
__
__
6"
1
__
00000000
000000
L
Combination Brush/Squeegee
__
18"
2

1/4

"
__
__
1
__
00000000
000000
M
Blower Nozzle
18"
__
__
__
__
__
__
00000000
00000

Aluminum Attachments for

2"

Dia.

Hose

A
Crevice Tool
15"
__
__
__
__
4
__
00000000
00000
C
Floor Brush
__
22"
1

3/4

"
__
__
2
__
00000000
000000
D
Squeegee
__
22"
1

1/4

"
__
__
2
__
00000000
000000
F
Round Brush
__
__
__
3

1/4

"
__
__
13

1/2

" Lg. Straight Steel Wand
00000000
00000
F
Round Brush
__
__
__
4"
__
__
15" Lg. Straight Steel Wand
00000000
00000
H
Upholstery Brush
__
6"
1

1/4

"
__
__
__
__
00000000
000000
L
Combination Brush/Squeegee
__
20"
3

1/2

"
__
__
4
45" Lg. Curved Steel Wand
00000000
000000
M
Blower Nozzle
18"
__
__
__
__
4
__
00000000
00000

Steel Attachments for

2"

Dia.

Hose

A
Crevice Tool
24"
__
__
__
__
__
__
00000000
00000

Curved Wand with
Twist-On
End
Curved Wand with
Snap-On
End

Straight Wand with
Twist-On
End
Straight Wand with
Slide-On
End
Wand
Style

Lg.

Dia.

Material
Each

Curved Wand with

Twist-On

End

1
54"
1

1/2

"
Plastic
00000000
000000
1
54"
1

1/2

"
Steel
00000000
00000
1
54"
1

1/2

"
Aluminum
00000000
00000
1
42"-59"
1

1/2

"
Aluminum
00000000
00000

Curved Wand with

Snap-On

End

2
56"
2"
Aluminum
00000000
000000

Straight Wand with

Twist-On

End

1
54"
1

1/2

"
Aluminum
00000000
00000

Straight Wand with

Slide-On

End

3
54"
1

1/2

"
Aluminum
00000000
00000
4
54"
2"
Aluminum
00000000
000000