How to

Identify and Measure Fittings
Pipe size is an industry designation, not the actual size. View information about how to measure threaded and unthreaded pipe and pipe fittings.
Quick-Clamp

High-Vacuum

Fittings for Stainless Steel Tubing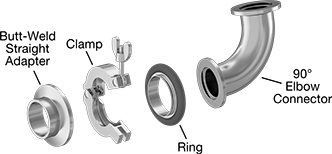 For Use

With:


Fittings with Gasket

End:

Air,

Argon,

Helium,

Nitrogen
All Other

Fittings:

Air
Temperature

Range:

0° to 300° F

Tubing:

Use with

304/304L

or

316/316L

stainless steel
Specifications

Met:

ISO 2861
Instead of a gasket, these fittings have a special ring that is designed for high-vacuum applications, such as vacuum coating and heat treating, leak testing, and analyzing gases. Also known as KF, QF, and NW fittings, they are the most common type of connection in high-vacuum systems. Connect with a clamp and another quick-clamp fitting for fast, easy access to your line. To use fittings in pressure applications, use a pressure-rated ring (sold separately).
304 stainless steel fittings have very good corrosion resistance.
Note: To complete a connection, you'll need two quick-clamp fittings, a ring, and a clamp (all sold separately).
Ultra-High-Vacuum

Flanges and Fittings for Stainless Steel Tubing
For Use

With:

Air
Temperature

Range:




Flanges:

-300° to 800° F




Gaskets:

Not Rated

Tubing:

Use with

304/304L

and

316/316L

stainless steel
Specifications

Met:




Flanges:

ASTM

A240,

ASTM

E45,

ASTM E12


Gaskets:

ASTM

B152-179,

ASTM F68
Create access points in ultra-high-vacuum lines or chambers by bolting two same-size flanges together with a copper gasket (sold separately) between them. The flanges' sharp edges dig into the copper gasket and form an extremely tight seal, which means they handle higher vacuum pressures than other high-vacuum fittings with rubber gaskets. Also known as CF, Conflat, and UHV fittings, use them in vacuum coating, heat treating, and drying applications, as well as for leak testing and analyzing gases. They're stainless steel so they resist rusting.
Fittings with a rotating flange turn so you can easily match up the bolt holes with another flange that may be misaligned.
Butt-weld flanges provide a flush connection for smooth flow through your line.
Socket-connect flanges are easier to weld than butt-weld flanges because they don't need to align perfectly to tubing; insert the tubing into the socket end and weld together.
Caps are also known as blind flanges.
Bolt kits are required to make a complete connection.
Through-Wall

Fittings for

High-Vacuum

Chambers
For Use

With:

See table
Environment Temperature

Range:

32° to 300° F

Process Temperature

Range:

-325° to 995° F

Tubing:

Use with

304/304L

or

316/316L

stainless steel
Specifications

Met:

See table
Transfer liquids and gasses into high-vacuum chambers with these assembled fittings, also known as feedthroughs. Because they form a tight seal on chamber walls, they are often used in coating, cooling, and leak-testing applications where negative pressure (vacuum) must be maintained. These fittings are ready to install and include high-vacuum fittings, metal tubing, and Yor-lok tube fittings. On each end, the Yor-lok fittings include a nut and two sleeves that grip your system's stainless steel tubing. The entire assembly is stainless steel, so it resists rusting. These fittings are not for use in pressure applications.
Flanged fittings require a gasket and bolt kit (each sold separately) to complete the connection.
For technical drawings and 3-D models, click on a part number.
Flanged (CF) Chamber Connection with Yor-Lok Fittings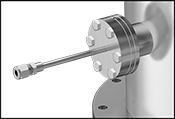 Flanged Shown Installed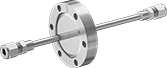 Flanged
Flange
OD
Trade
Number
Bolt
Circle


Dia.

Dia.

No.


of
OD
Wall


Thick.

Lg.

Max.


Vacuum
Material
Each

For Use With

Acetone,

Air,

Ammonium

Hydroxide,

Helium,

Methane,

Nitrogen,

Oil,

Water

1

21/64

"
16
1

1/16

"

11/64

"
6

1/4

"
0.028"-0.095"
8"
1 × 10 -13 torr @ 72° F
304 Stainless Steel
0000000
0000000
2

3/4

"
40
2

5/16

"

17/64

"
6

1/4

"
0.028"-0.095"
8"
1 × 10 -13 torr @ 72° F
304 Stainless Steel
0000000
000000

For Use With Liquid

Helium,

Liquid

Methane,

Liquid

Nitrogen,

Liquid Oxygen

1

21/64

"
16
1

1/16

"

11/64

"
6

1/4

"
0.028"-0.095"
9"
1 × 10 -13 torr @ 72° F
304 Stainless Steel
0000000
000000
2

3/4

"
40
2

5/16

"

17/64

"
6

1/4

"
0.028"-0.095"
9"
1 × 10 -13 torr @ 72° F
304 Stainless Steel
0000000
000000