Chalk Line Reels

Compact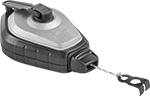 Quick Return

High Capacity
Fill these reels with powdered chalk and you'll be ready to snap a line. Chalk is sold separately.
Compact reels are small enough to fit in your pocket.
Quick-return reel winds three times faster than compact reels.
High capacity reels have over five times the chalk capacity of other reels to handle big jobs and make bold lines.
Powdered Chalk for Chalk Line Reels



Ball
This twine is made of soft cotton, so you can grip it without hurting your hands.
Dia.

Trade
Size
Breaking


Strength,

lbs.

Application
Color

Lg.,




ft.

Each

Cotton

0.060"
18
30
Not for Lifting
White
510
0000000
00000
0.075"
24
40
Not for Lifting
White
390
0000000
0000
0.078"
30
60
Not for Lifting
White
300
0000000
0000
0.094"
36
70
Not for Lifting
White
250
0000000
0000
0.110"
48
80
Not for Lifting
White
180
0000000
0000
0.120"
60
100
Not for Lifting
White
140
0000000
0000
0.125"
72
120
Not for Lifting
White
250
0000000
0000