The claw-shaped end grips and extracts nails, tacks, and brads. Also known as claw bars.
Style B are often used for stripping and removing wooden concrete forms after concrete has set.
Style G are also known as crow bars.
Pry bars with offset and gooseneck ends give you more leverage than straight ends.
Style K—Gooseneck Chisel End × Straight Chisel End
Nonmarring Pry Bars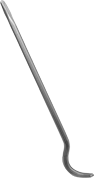 Chisel End
The gooseneck end of these pry bars is aluminum-bronze coated to prevent scratching. Often used to separate die blocks, they're also known as die bars.