Water-Quality

Test Strips
Dip these strips into your liquid to quickly test water conditions. Strips change color to indicate the value reached; match the color of the strip to the color chart on the bottle to interpret the results.
Water-Quality

Combination Test Kits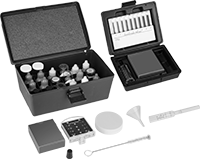 Test for contaminants before installing water-treatment equipment such as boilers and filters. You can also check your pipes and equipment for improper chemical levels that can cause corrosion and scale buildup, shortening their life.
340-test kits include tests for monitoring municipal water, which is often treated with chlorine.