Stainless Steel
Cleaner/Protectants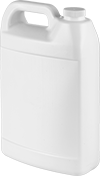 Also known as passivating fluids, these protectants remove dirt and discoloration from stainless steel, restoring or maintaining its corrosion resistance. They expose the chromium in the stainless steel, which reacts with air to form a protective layer. Use them on parts that are vulnerable to rust due to machining, heat, or chemicals. The citric acid in these protectants won't create harmful fumes or hazardous waste, making them safer than protectants with nitric acid.
No need for mixing or monitoring pH levels, these protectants come ready-to-use. For sensitive parts, such as those made from 400-series stainless steel, you can dilute them with water.
All of these protectants meet SAE and ASTM international guidelines for passivating stainless steel. They also meet ASTM international guidelines for descaling and cleaning titanium and titanium alloys.
Protectants for removing dirt and rust contain an additive that eliminates rust that's already on your part.
Liquid protectants are thinner than gel protectants, making them best for immersing parts. When spot cleaning, however, they can be hard to use on vertical surfaces.
Gel protectants are thicker than liquid protectants, so they cling to surfaces. Use them on vertical surfaces, weld joints, and other parts that can't be immersed. Gels for removing dirt only have a higher pH value than all of the other protectants, which means they're less acidic and won't discolor 400-series stainless steel. Do not use them on parts that already have rust.
Type
Size
Composition
Harshness
For
Use
On
Specifications
Met
Each

Liquid

For Removing Dirt and Rust

Spray Bottle
22 oz.
Water Based
Moderate
Stainless Steel
ASTM A380, ASTM A967, ASTM B600, SAE AMS2700
0000000
000000
Jug
1 gal.
Water Based
Moderate
Stainless Steel
ASTM A380, ASTM A967, ASTM B600, SAE AMS2700
0000000
00000

Gel

For Removing Dirt and Rust

Spray Bottle
22 oz.
Water Based
Moderate
Stainless Steel
ASTM A380, ASTM A967, ASTM B600, SAE AMS2700
0000000
00000
Jug
1 gal.
Water Based
Moderate
Stainless Steel
ASTM A380, ASTM A967, ASTM B600, SAE AMS2700
0000000
00000

For Removing Dirt

Spray Bottle
22 oz.
Water Based
Moderate
Stainless Steel
ASTM A380, ASTM A967, ASTM B600, SAE AMS2700
0000000
00000
Jug
1 gal.
Water Based
Moderate
Stainless Steel
ASTM A380, ASTM A967, ASTM B600, SAE AMS2700
0000000
00000