Compact Linear Solenoids

A thin profile allows these solenoids to fit well in narrow spaces. You can use them to push or pull—use the side with the unthreaded rod (R) and two mounting studs to push or use the opposite side with the threaded rod to pull.
For technical drawings and 3-D models, click on a part number.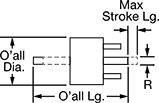 Max.


Stroke


Lg.

Retracted
Extended
Retracted
Extended
Force @


100%


Stroke

Lg.,

oz.

Choose
a
Voltage
Power


Draw,


Watts

On/Off




Time,


Seconds

Dia.

Lg.

Rod


Dia.




(R)

Each

For DC Voltage

0.2"
0.5"
0.7"
0.3"
0.5"
7
18
30/90
1

1/4

"
1

1/2

"
0.16"
000000
000000
0.3"
0.6"
0.9"
0.2"
0.5"
1
16
20/60
1"
1

3/4

"
0.13"
000000
00000
0.7"
1.9"
2.6"
0.3"
1"
50
80
90/270
2

3/4

"
4

3/4

"
0.38"
000000
000000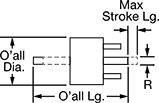 Max.


Stroke


Lg.

Retracted
Extended
Retracted
Extended
Force @


100%


Stroke

Lg.,

oz.

Choose
a
Voltage
Power


Draw,


Watts

Dia.

Lg.

Rod


Dia.




(R)

Each

For DC Voltage

0.2"
0.5"
0.7"
0.3"
0.5"
2
4.5
1

1/4

"
1

1/2

"
0.16"
000000
000000
0.2"
0.6"
0.8"
0.3"
0.5"
2
4
1"
1

3/4

"
0.13"
000000
00000
0.5"
1.9"
2.4"
0.5"
1"
45
20
2

3/4

"
4

3/4

"
0.38"
000000
000000