Class K Fire Extinguishers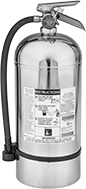 Suppress extremely hot reflashing fires involving combustible oil and grease. Extinguisher has a safety pin to prevent accidental discharge. Please check local ordinances for inspection requirements (inspection tags sold separately).
Replacement
Mounting
Brackets

Extinguisher
Type

Capacity,




gal.

Discharge


Time,




sec.

Mounting
Location

Dia.

Ht.

Charged
or
Empty
Fasteners
Included
Hole


Dia.




(Qty.)

Includes
Specifications
Met
Each
Each
Wet Chemical
1

3/5

55
Surface
7"
19

1/2

"
Charged
No

7/32

" (2),

5/16

" (1)
Mounting Bracket, Pressure Gauge, Safety Pin
UL Listed

0000000
0000000
0000000
00000
Fire Suppression Tools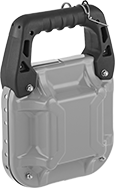 Fire Suppression Tool
Fire Suppression Tool Shown with Optional Mounting Bracket
Cool down fires and prevent them from spreading in offices, storage rooms, and other enclosed spaces. To activate, pull the locking and igniter pins and toss the tool into the burning room. Removing the pins starts an 8-second countdown that can't be stopped. Next, the nontoxic and environmentally-friendly aerosol discharges, cooling the room without removing oxygen, so people can still breathe. Store these tools in a cool, dry environment to ensure maximum life. They are not fire extinguishers and should not replace any extinguishers required by NFPA 10.
These tools work with most common fires including: wood, paper, cloth, rubber, liquids, gases, electrical equipment, and kitchen fires. Using the large handle, first responders can easily grab them in an emergency. They adhere to the rigorous military testing standards of MIL-STD-810.
To position these tools near enclosed spaces where they might be needed, use a mounting bracket.